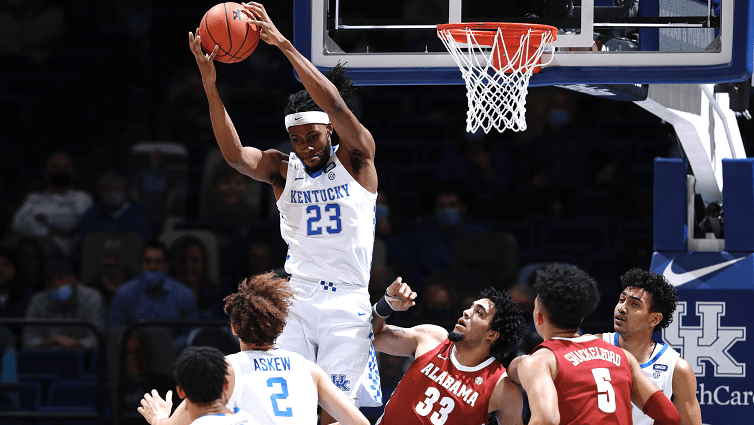 Dontaie Allen got his first start and had his least productive game since coach John Calipari finally gave him a chance to play when SEC play started. Brandon Boston came off the bench for the first time and had one of his best games and certainly his best in SEC play.
So Lexington Herald UK beat writer Jerry Tipton asked UK assistant coach Joel Justus Friday what his "Coaching 101" manual had to say about a player starting versus coming off the bench going into Saturday night's home game with LSU.
"If you have that book if you could send it over. I'll put my address in the (Zoom) chat after this and if you could shoot that over because I don't know that 'Coaching 101′ manual that I have tells you how to handle a pandemic, how to handle injuries, how to handle everything that we're going through this year," Justus said. "So, if it's in the archives over there at the Herald-Leader, you shoot that right over. And if there's something in there about substitutions patterns, let me know."
Justus' point is valid. There is no one right way to know the answer to what makes Allen and/or Boston most productive. However Justus said he believes coach John Calipari has been "amazing" with this team despite its 4-9 record.
"I think what Coach Cal has done with this group is amazing in terms of keeping a positive attitude, of keeping our guys on their toes. When you look at the different starting lineups, I think it's seven that we've had. We've had seven now different starting lineups. I think we're looking for different things. We're trying to put our players in the best position for them to feel success," Justus said.
"I think you talked about Devin Askew, brought him off the bench a little bit and had him take a step back earlier. We've talked about getting Dontaie some more minutes, maybe playing through some mistakes and then brought him off the bench. He comes to Coach yesterday and says, 'Maybe I feel better coming off the bench.'
"BJ has started, what was it, 12 games and then came off the bench for one and played really well. Does that have anything to do with him starting? Or does it have to do with, 'Hey, look, his story is starting to change right now.' He's got 12 games of experience under his belt. He's practicing with more confidence. So, I'm not sure that starting, not starting, … "
Justus said Calipari and all the assistant coaches are spending time with players trying to figure out how to help each one.
"I think that's the biggest thing when you coach young people, to sit down and we often times tell them what to do, what to do, what to do. Often times you have to say, 'Hey, how can I help you?' There's not anybody better in our business of doing that than John Calipari," Justus said.
"In a year like this, it's been amazing to watch, as I consider myself still as a young assistant how he handles a season like this. He's been extremely positive with this group. He's been extremely caring with them and spending extra time with them. And like I said, our story is continuing to be written."