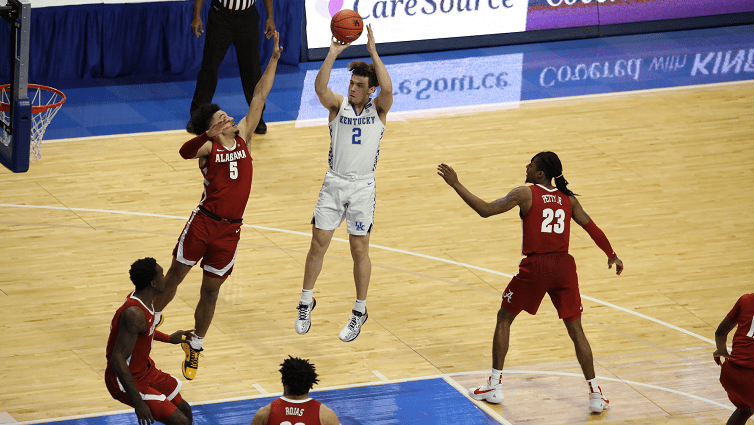 Devin Askew and UK have to try and find ways to score more against Alabama Tuesday. (Vicky Graff Photo)
John Calipari knew that Kentucky "needed" to beat LSU but that doesn't mean he forgot the previous three-game losing streak.
"I'm still disgusted over the last couple, literally disgusted. But we needed to win this," Calipari said after the 82-69 win over LSU Saturday.
"Now we're going and playing the best team in our league, and playing them down there. They beat us here. We broke down, they played well. Now we go down there."
That best team is Alabama which hammered UK 85-65 in Rupp Arena on Jan. 12 — UK's worst home loss in Calipari's 12 seasons — even though one of its top players did not play and then two more went out with injuries during the game. Alabama is 8-0 in SEC play with two wins of 30 plus points along with the 20-point win over UK. Alabama has won nine straight games since a 73-71 loss to Western Kentucky on Dec. 19.
"One of the (Alabama) players was asking me the score (when the Tide won at UK). He couldn't see it," Calipari said. "You know, they're good. They're a top-10 team. They deserve to be.
"You know what? For us, I told them about this game. These are the games you want to play to where you know you're not supposed to win the game. Now you go and it gets you going, you play. Instead of playing not to lose you play to win. You don't look at the scoreboard."
Calipari said he didn't look at the scoreboard the first half of the LSU game.
"I'm just trying to get these guys to play together, to be better with the ball, to execute when it's not your play," Calipari said.
Then he threw in a little football talk.
"It's kind of like the wishbone. What if only two guys that knew they were getting to play did it? You can't run it. You got to execute when it's not for you. We're getting better that way," Calipari said.
But UK needs to be way better to beat Alabama. The Crimson Tide hit 14 of 30 3-pointers against Kentucky, including 10 of 22 the first half. Alabama was even better in its 30-point win over LSU last week when it made 23 of 43 3's, including seven in a row by John Petty to start the game.
What kind of expectations do the Cats have about being able to change the Alabama outcome this time?
"Just go out there with the same mindset we did today, just go there to win, not playing to lose. Just play as a team and play defense, just go out there and play ball," UK freshman Brandon Boston said.
Freshman Lance Ware says not to worry about UK's confidence going into the Alabama game.
"We still believe we are a good team, some people might have other beliefs, but me, the coaching staff and the team knows how hard we work, and we still believe we can do this thing," Ware said.
Calipari hopes his team can sustain confidence from how it played against LSU. But remember when UK won by 18 points at Florida to start SEC play, it followed that with a three-game losing streak before the LSU win.
"Look, they're one of the best teams in our league," Calipari said about LSU. "They're the leading scoring team in our league. So let's keep taking pride in our defense, see where this goes."