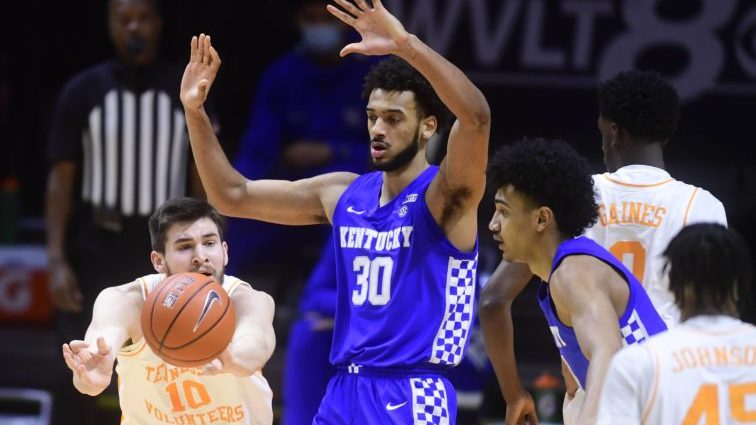 Kentucky held Tennessee to 25 second-half points to win its third straight game Saturday. (SEC Photo)
Remember a few weeks ago when sophomore Keion Brooks openly said "it sucks" after Kentucky lost another close game — something the Cats have done way too often this year since they had the lead in the second half of nine of their 13 losses.
But nothing sucked about a 70-55 win over Tennessee Saturday from Brooks' perspective. Never mind the 3-for-22 shooting the first 16 minutes of the second half because the UK defense was stout enough to expand a 15-point halftime lead even with that horrendous shooting.
So what would Brooks say now after UK's third straight win?
"Now let's keep it rolling, keep the momentum we got, keep playing hard and believing," Brooks said. "Everybody needs each other to get it done."
Maybe that should have been obvious to players earlier but for whatever reason was not. Now it seems like the light bulbs have come on and players are accepting their roles.
Four players — Davion Mintz, Isaiah Jackson, BJ Boston, and Brooks — took 10 or 11 shots. Four players — Devin Askew, Brooks, Olivier Sarr, and Mintz — had two or more assists (and for this team that is a plus). Five players have four or more rebounds led by Brooks with a career-high 14 and seven each by Sarr and Jacob Toppin.
It seems obvious watching the team now that the players not only trust coach John Calipari but they trust each other.
"We had a whole bunch of players that had not played with each other," Brooks said. "Losing some games doesn't help. It took us some time but we are getting there. We are not all the way there but we are getting there."
That's the key. Kentucky opened SEC play with three straight wins. It now has three straight wins. But after that first three-game streak, it lost six of the next seven. The Cats have no margin for error left if they want to make the NCAA Tournament. They have to keep improving and win the SEC Tournament. No other scenario gets them to NCAA play.
Brooks said UK players are even better at following the game plan now.
"We are starting to come together as a team, believe in one another and the staff. We just needed to realize we needed each other to win," Brooks said.
Kentucky coach John Calipari said players let their personal offensive performance dictate if they were following the game plan.
"If they were not playing well they did not follow the game plan," the coach said. "If you are not following the game plan based on I turned the ball over or missed a shot, that's what an immature team does. But we are busting through that."