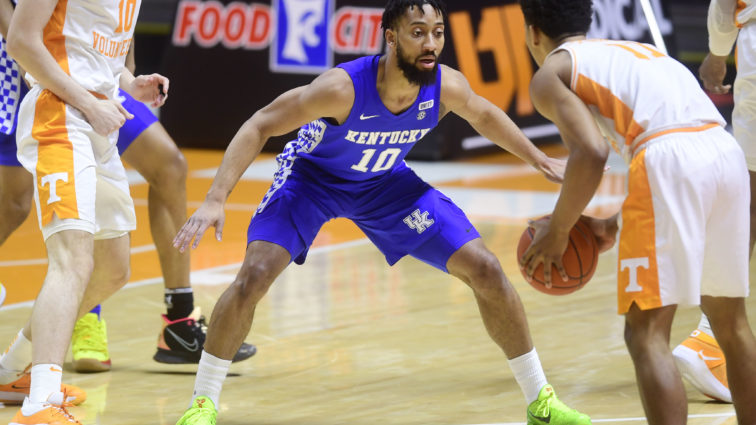 It was the kind of offensive collapse that has cost Kentucky so many games this season. The Wildcats missed 19 of their first 22 shots in the second half and had just three field goals in 16 minutes of the second half. Yet thanks to solid free throw shooting again and magnificent defense Kentucky never let host Tennessee mount a rally from its 45-30 halftime deficit.
"This is huge for us, especially with everything we have been through this season," senior guard Davion Mintz said after UK's 70-55 win, the Cats' third straight win. "To go on the road and win is huge and exactly what we needed."
Sophomore teammate Keion Brooks felt the same way.
"It was extremely important to know that we could do that and finally bury a team and put a team away," Brooks said. "It felt good to keep our foot on the gas pedal all the time."
Especially since UK did it with defense, something that has not been true in most games when it blew big leads. Kentucky scored only 25 points in the second half but limited Tennessee to the same total. Certainly going 6-for-29 from the field — and that included making three of its final seven shots — was no reason for UK to celebrate but the Cats held Tennessee to 7-for-26 shooting, including 1-for-12 from 3-point range.
Instead of being bullied by the Vols as coach John Calipari said his team was in a Rupp Arena loss to Tennessee, the Cats did the bullying this time.
"The biggest thing is we are a good defensive team," Calipari said. "We learned about playing them the first game. We knew it would be hand-to-hand combat and we didn't back away. This is a 'top 15 team and one with a chance to get to the Final Four and we didn't back down."
Mintz went 5-for-5 from 3-point range in the first half and then missed all five shots he took the second half. Isaiah Jackson had 13 points in the first half when he was 4-for-7 from the field and then missed all three shots he took the second half.
But it didn't matter that after combining for 28 points in the first half that Mintz and Jackson got three points total the second half. Olivier Sarr got all 10 of his points in the second half and Brooks got seven of his 10.
Calipari talks about "daggers" players can deliver by making shots but Kentucky was throwing defensive daggers at a team that scored 82 points in Rupp Arena on Feb. 6.
"We played team defense. We are becoming a team," Calipari said.
The defensive intensity and hustle have seemed to amplify after Calipari decided to speed up the game. The Cats had been scoring more and that seemed to carry over to more energy on defense. Calipari said it shouldn't be that way when I asked him about it but said it probably was.
"Their personal performance affects their body language and how they played. That is what an immature player does," Calipari said. "That is just what they do. They become energy zappers. Head down, moping around."
But when UK went 3-for-22 the first 16 minutes of the second half, there were no energy zappers. The defense lost no intensity.
"Maybe we broke through today," Calipari said. "We are maybe running out of runway but we are starting to become the team we wanted to see."
Yes, the Cats are maybe slowly doing that. They have won three straight games and even though they are just 8-13 overall, UK is now 7-7 in the SEC. Only four SEC teams have more league wins — Alabama (13), Arkansas (9), LSU (8), and Tennessee (8). Kentucky has three SEC games left. Win them all and get to 10 league wins and UK might be in line for a bye into the SEC quarterfinals. Or if the game with South Carolina gets rescheduled, UK could get to 11 league wins.
But either way, Kentucky is going to have to win the SEC Tournament to make the NCAA, something the players know and accept.
"A few years ago we were 6-7 (in SEC play) and ended up getting to the Elite 8," Calipari said. "We lost 4 in a row and everybody was going crazy. Same deal and that team turned it around."
Now he just has to hope this team can keep turning it around the next two weeks and then win the SEC Tournament.