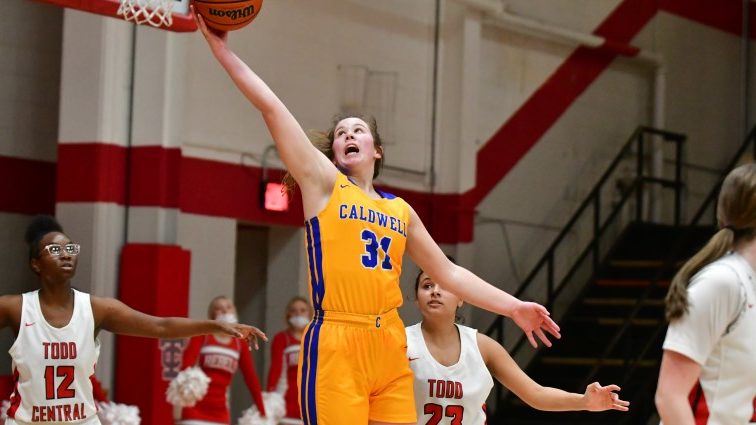 A personal 8-0 run by Jacey Jaggers early in the fourth quarter, including consecutive 3-pointers, helped lift Caldwell County to a 59-49 win at Todd County Central Monday.
Jaggers scored 14 of her team-high 21 points in the fourth quarter.  Her final six points came on free throws in the final 1:06 to extend a six-point Lady Tiger lead to 12.
It was a streak game that saw scoring runs of 9-0, 7-0, and 10-0 in the first half and 13-1 and 11-2 in the second half.
Majah Hollowell sparked a 10-0 Caldwell run to end the first half with a pair of buckets to give the Lady Tigers a 33-21 lead at intermission.
A Jaggers' 3-pointer early in the third quarter gave Caldwell its biggest lead at 36-23.  Todd County Central answered with a 13-1 run capped by Abby Williams' 3-pointer that gave the Lady Rebels a 39-37 lead with 1:25 left.  Jaggers ended the run with a bucket in the paint, and A.J. Hollowell ended the quarter with a bucket of her own to put Caldwell ahead 41-39 after three quarters.
Lucy Chester scored eight of her game-high 24 points in the fourth quarter to keep Todd close, but Caldwell was able to spread the floor and run two minutes off the clock to help secure an 8-point lead late.
Caldwell also helped themselves at the free throw line, knocking down 19 of 28.  Todd was 6 of 14.
The Lady Tigers won the battle of the glass easily 44-30 which led to 22 second-chance points.  Jaggers had six rebounds in addition to her 21 points.  Karsyn Parker scored nine points, led Caldwell with 11 rebounds, and had four steals. Majah Hollowell added 10 points and six rebounds.
Chester was the lone Lady Rebel to score in double figures and added nine rebounds.  7th grader Jamya Kay came off the bench to score seven points and gather in five rebounds.
Todd County Central [7-9] will host Hopkins County Central Tuesday.
Caldwell County, which won in Elkton for the first time in four years, hosts Dawson Springs Tuesday.
Caldwell County                    11        22        8          18–     59
Todd County Central           16        5          18        10–     49
Caldwell County [4-8] – Jaggers 21, Majah Hollowell 10, Parker 9, Smiley 7, A.J. Hollowell 6, Gray 5, McKinney 1
Todd County Central [7-9] – Chester 24, Kay 7, Williams 6, Leavell 4, Taylor 4, Collins 2, Coleman 2