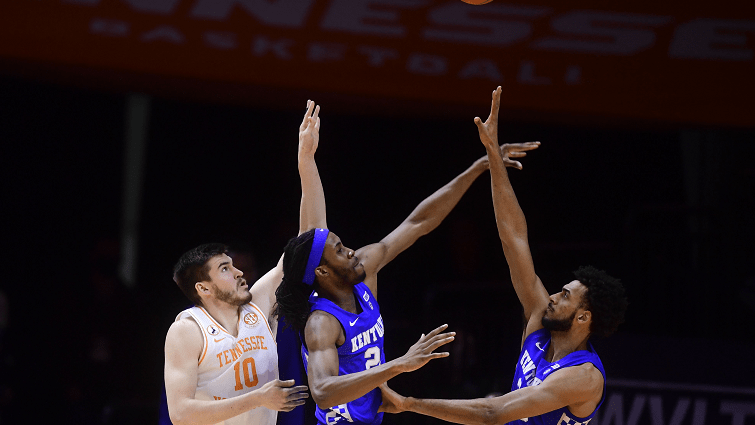 No, John Calipari was not happy that Kentucky missed 19 of 22 shots the first 16 minutes of the second half at Tennessee. Yet he also loved the way his team was defending and rebounding during Saturday's 70-55 victory in a game where the Cats shot just 20 percent from the field the second half and had only six field goals in that time against a ranked team.
"I wish we would have made a bunch of shots and been up bigger, but we were really guarding," Calipari said after Saturday's win.. And I'll tell you what else we did, we were really rebounding. I think the last time that they played us, they out-rebounded us and beat us to balls.
"We did some good stuff today. They weren't at their best. I know they're better than they played. But let me just tell you, we were at our best."
At "our best" shooting 20 percent from the field the second half? But Calipari was right. It was a more cohesive Kentucky team, a more alert Kentucky team, a more intense Kentucky team.
"When we have a game where we have 11 turnovers — and a bunch were at the end so we really only had probably eight or nine turnovers. Like I said, I believe in this team, I still do. I don't care about the record, I don't even know what the record is," Calipari said.
Actually guessing he might know it is 8-13 but it really doesn't matter. His point stays the same — he liked the intangibles he saw from a team that most of the season had folded in tense situations. But not at Tennessee.
"All I want to know is that we're getting better. That's it. People can go crazy saying that I need to know the record, but I'm just telling you, I don't even look at the score. I'm just coaching my team to get better," Calipari said.
"And you know what, this young group of inexperienced kids need us to be that way. But hold them accountable. You have to hold them accountable or you're not coaching."
Senior guard Davion Mintz said as good as UK was offensively the first half when it scored 45 points, the "best part" of the win was UK's second-half defense and overall effort.
"Just the fact that we started out that hot and just kept it going for the entire game. That was huge for us and our confidence," Mintz said. "I think that we owed them one and it was big for us to come in and do it."