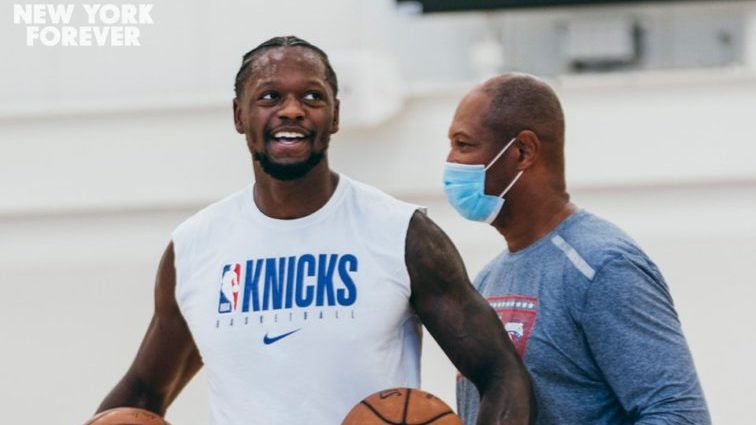 Kenny Payne left John Calipari's coaching staff to join the New York Knicks and many wondered what impact it might have on the Wildcats — who are now 8-13. Calipari has insisted that his current assistant coaches are doing all the same things Payne did and his absence is not the reason for UK's losing record. Yet Calipari also recently said he told the Knicks he thought Payne would light a fire under former Cat Julius Randle — and he has.
"One of the things that I told the Knicks when they were considering Kenny is that: 'Understand now, if you want to see what Julius can be — he's a good guy because they have a great relationship and Kenny will push him and make him uncomfortable until he's comfortable being uncomfortable,'" Calipari said.
The Kentucky coach was right. Randle is averaging 23.2 points, 10.9 rebounds and 5.5 assists per game and shooting 40.7 percent from 3-point range, all career-highs. He recently had 44 points in a win over Atlanta and had 25 points and 14 rebounds in Sunday's win over Minnesota to improve New York's record to 15-16.
Fifteen wins might not seem like a lot but ESPN projected the Knicks to win 25 games all season.
"Julius is having an All-Star year. And the Knicks, if they stay in this playoff hunt, and they're in there, there's no reason — Julius in the biggest market had averaged in double-double just dragging the team and motivating his team and doing what he's doing — for that not to happen for him personally," Calipari said.
The UK coach also told the Knicks he thought Payne would be good for Kevin Knox, another former Cat.
"They're not playing (Kevin) as much (now) because they're trying other guys to play snippets and trying to figure out who's who. But I think it's been great," Calipari said.