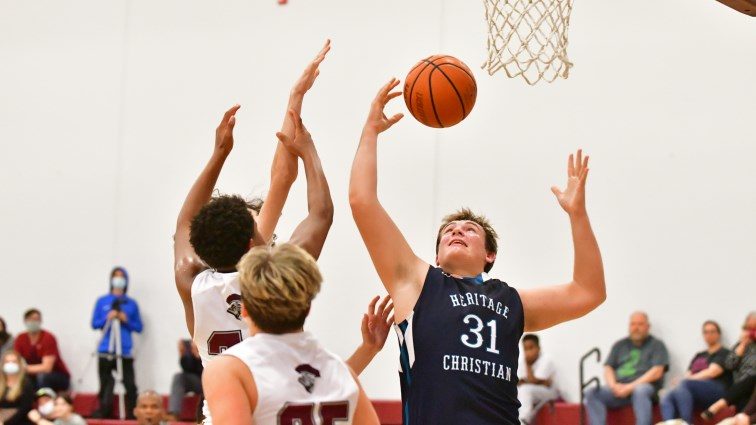 Heritage Christian Academy fell in the semifinals of the KCAA Super Region Saturday and now awaits their placement for the state tournament this week.
Zeb Bratcher scored 25 points as Bethel led 15-7 after one quarter and pushed its lead to 31-19 at halftime.
The slow start was too much for the Warriors to overcome as they scored 21 points in the fourth quarter but it was too late by that point.
Carlos Robles had 11 points and seven rebounds, while Trenton Hayes had 11 points and three assists.  Hayes was named to the All-Tournament Team.
Heritage Christian will play in the KCAA State Tournament this week in Nicholasville and hope to get better treatment from the league when it comes to seeding.
HCA was given the No. 4 seed in the Super Regional by the league despite splitting its two games with No. 3 seed Oak Ridge.  HCA also had a better win percentage against KCAA opposition.  Their lone win against an out-of-region opponent was a 22-point win over North Hardin, who finished at 7-3 in league play.  HCA was awarded two wins by forfeit and lost to top-seed Bethel on a last-second shot during the regular season.
Oak Ridge beat three out-of-region opponents who combined for a 4-22 league record. Like HCA, Oak Ridge lost both regular season games to top seed Bethel.
The KCAA Boys' State Tournament will begin with play-in games this week for the teams that failed to reach the championship game of the Super Regional before moving to West Jessamine High School Friday.
Heritage Christian                7          12        9          21–     49
Bethel Christian                    15         16        17        19–     67
Heritage Christian [8-12] – Hayes 11, Robles 11, Powell 6, Wills 5, Folz 4, Crunk 4, Glover 4, Gibson 2, Yates 2
Bethel Christian – Bratcher 25, Pate 20, Hanover 15, Gerardi 4, Weiss 2, Hoy-Houde 1