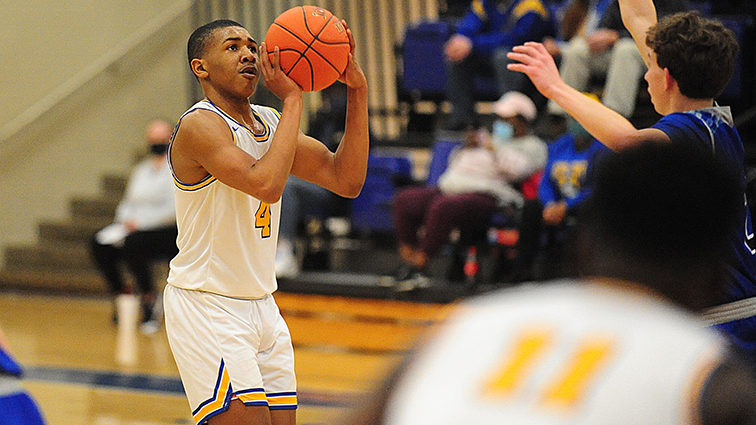 Jabrion Spikes scored 31 points as Caldwell County defeated Crittenden County 59-53 in overtime Tuesday night at the CAB gym in Princeton.
Spikes even punctuated the win by throwing in a three-quarter court shot at the final buzzer after the Tigers had blocked a potential game-tying 3-pointer by the Rockets in the closing seconds.
Caldwell led for much of the night, taking a but Crittenden came back to force overtime at 44-44.
The Rockets led 46-44 early in the extra period.
But Blake Vivrette hit a big 3-pointer to put Caldwell up 49-46 with 2:22 left in OT and the Tigers never trailed again. However, the Rockets were in the game all the way until the closing seconds, twice pulling to within a single digit before Caldwell held on.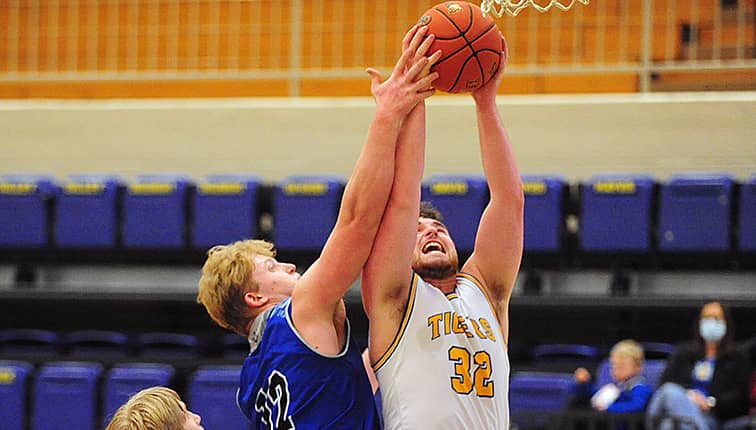 Collin Whittington added 15 points for Caldwell and was five of six at the free throw line in overtime.
The Tigers played without senior Tripp Branch, who had scored at least 25 points in the last six games. Branch has an ankle injury and is expected to be out 10-14 days.
Caldwell led 13-9 after one quarter thanks to a buzzer-beating 3-pointer by Spikes.
Neither team generated much offense in the second period as the Tigers got to halftime with a 16-15 lead.
Crittenden took its biggest lead in the third quarter at 32-28 before Caldwell scored seven straight to carry a 35-32 lead to the fourth period.
Both teams had the ball late in the regulation but couldn't come up with a go-ahead bucket.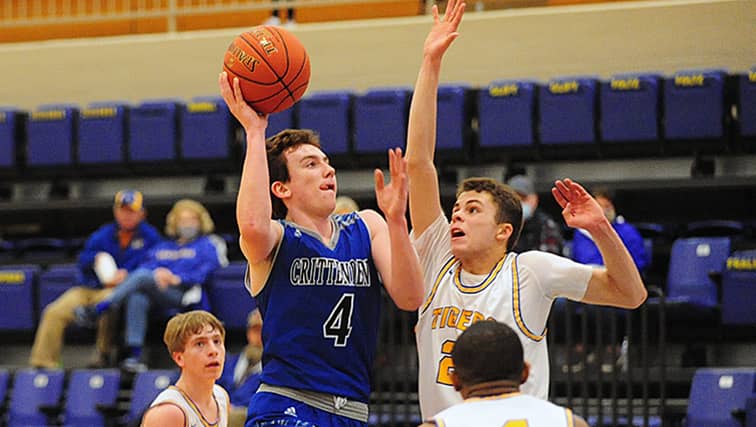 Preston Morgeson led Crittenden with 15 points while Gabe Mott added 13 and Tyler Boone 10.
The Tigers have beaten Crittenden three times this season and have taken 10 of their last 11 meetings with the Rockets.
The Tigers are now 7-13 this season and have won three straight and four of their last five.
Caldwell next hosts Union County on Friday.
Crittenden goes to Livingston Central Saturday afternoon.
Crittenden County   9   6   17   12   9 — 53
Caldwell County      13   3   19   9   15 — 59
Crittenden County (8-8)—Preston Morgeson 15, Gabe Mott 13, Tyler Boone 10, Preston Turley 8, Travis Champion 4, Ben Dobyns 3.
Caldwell County (7-13)—Jabrion Spikes 31, Collin Whittington 15, Tate VanHooser 6, Blake Vivrette 5, Carter Whittington 2.