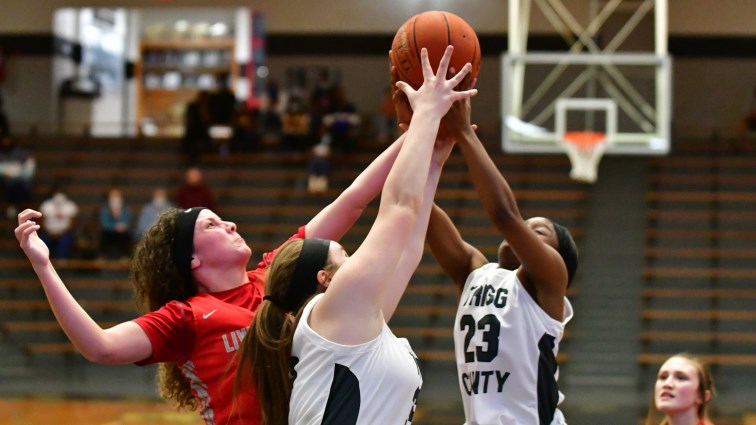 Just as Lyon County's boys did two nights earlier, the Trigg County girls' basketball team won its third straight district title. The Lady Wildcats ran away from Livingston Central 51-21 at Wildcat Gym.  While Lyon County had accomplished the three-peat before, it's the first time its been done by the Lady Wildcats.
Trigg County used a 14-2 run over the first and second quarters to turn a 6-5 deficit into a 19-8 lead.
Down 22-13 at halftime, Lauren Wring began the third quarter with two straight buckets to pull the Lady Cardinals to within 24-17.  Livingston wouldn't score the rest of the frame as Trigg finished on a 13-0 run.
Trigg converted six turnovers into 10 points in the quarter in building a 37-17 lead.
The game was delayed for 11 minutes between the third and fourth quarters when a fan had a seizure, causing an ambulance to be called.  He was helped to his feet and was treated away from the gym.
Trigg outscored Livingston 14-4 in the final quarter.
The Lady Wildcats shot 52-percent from the field in the second half in keeping Livingston at bay. For the game, Trigg scored 27 points off 25 Livingston turnovers.
Olivia Noffsinger led Trigg County with 12 points and three assists, while Marleigh Reynolds contributed 11 points and seven rebounds.
Trigg got balanced scoring as eight different players reached the scoring column.
Lauren Wring scored 11 points for Livingston Central, which was playing its first game in nine days Saturday.
Trigg County will host a first-round game in the region tournament Tuesday at 6:30.
Livingston Central    8          5          4          4–       21
Trigg County               14        8          15         14–     51
Livingston Central [9-10] – Wring 11, Croft 4, Joiner 3, Leahy 3
Trigg County [10-13] – Noffsinger 12, Reynolds 11, Phillips 7, Barbee 6, Hyde 6, I. Grubbs 5, T.T. Grubbs 2, Alexander 2