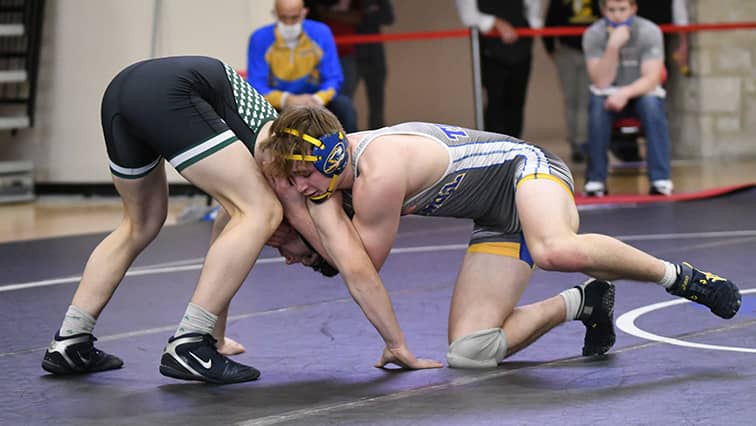 (David Rearic/KHSAA Photo)
Caldwell County is bringing home a pair of fourth-place medals from the KHSAA State Wrestling Championships in Winchester.
Freshman Timothy Nichols placed fourth at 120 while junior Dylan Walls was fourth at 170 in action Saturday at George Rogers Clark High School.
At 120, Nichols was pinned by Joseph Sander of Ryle in his opener in 3:39.
But Nichols won his next matches in the consolation bracket. He decisioned Max Speaker of Louisville St. Xavier 13-5, then decisioned Elijah Baird of McCreary County 10-2 to reach the third-place match.
Nichols was then paired with Sander for a second time, with Sander prevailing 2-0 in sudden victory in the rematch.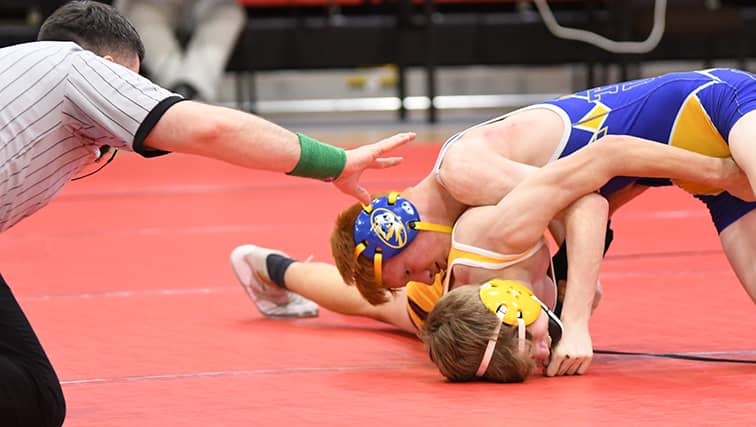 At 170, Walls won his opener, decisioning Lane Kiser of Louisville Trinity 16-11.
Walls then fell to Dalton Russelburg of Union County 8-2 in the semifinals.
Walls bounced back to pin Jack McCubbin of South Oldham in 4:41 in his next match.
That put Walls into the third-place match against Kiser. This time, Kiser claimed a 10-8 decision.
Nichols and Walls earned their trips to the finals with runner-up finishes last week in semi-state action in Owensboro.