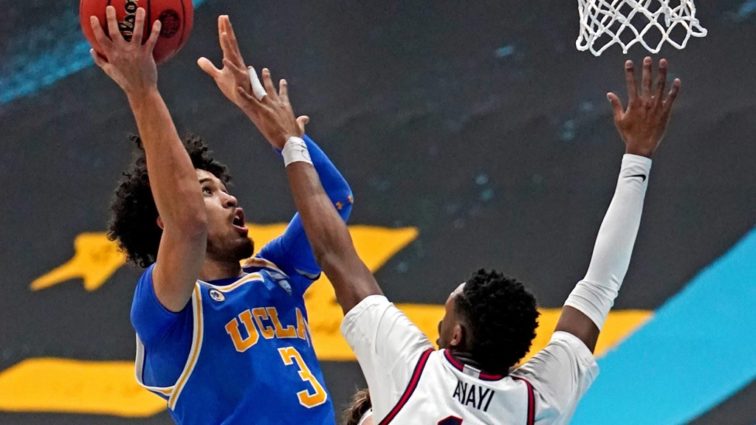 Q. After that shot goes in, Cameron has a shot of you huddling up immediately, the five of you on the floor. Take us inside the huddle, what were you guys discussing there?
JOHNNY JUZANG: You know, obviously Jalen makes an incredible shot. It didn't go all the way. But immediately we come together and we didn't — nobody — we weren't going to let anybody have their heads down. Everybody is so proud to play with each other and to play for these coaches. And there's no other way we'd rather go out. We went out fighting. Just we went out. There's no better way. There's no regrets. Just everybody fought to the last play and the last shot is the last shot.
But so grateful to call these guys teammates.
Q. This Gonzaga team, depending on how you look at it, is one of the more successful teams in the last 30, 40 years. Is there anything like a moral victory against a team this good, or does that not exist for you?
JOHNNY JUZANG: No, we expect to win. Kudos to them. They're a very good team. But we're UCLA and the guys on this team, you know, there's no one I'd rather go to battle with. So we expect to win. We don't look at the records or the rankings or the seedings. We are who we are, and every game we went out and left it out there and let the best man win because it's us against them. And once you're on that court, none of that stuff matters. Not to this group. I couldn't say that.
Q. I know it's still fresh, but just how do you put in perspective what you guys accomplished in this tournament?
JOHNNY JUZANG: It was a phenomenal run. I think the best thing and what everybody just feels so good about is, I mean, we couldn't be any prouder. Like, there was no — there was nothing that was going to stop us from fighting. I mean, literally to the last play and every single game to the last play, we were going to go out swinging. So we battled and left everything we had out there. So, I mean, that just feels like such an accomplishment being able to say you have no regrets. It's not very common. You don't get a whole group where you can look at everybody and want to go to war with them. I mean, it's like where you trust everybody is going to literally do whatever it takes to win the game. That's just an accomplishment for everybody, every single person in this group, to put together and play with a group like that is such an accomplishment.
Q. When you left the court, did you have a sense of how extraordinary the game you guys were part of had been? Does that dawn on you now at this point?
JOHNNY JUZANG: Yeah, it's tough. I'm not going to lie. We feel like we could have done it all. But still, at the same time, I know I could say I did realize what an amazing group this was. And honestly, I mean, the Final Four and the actual — like how deep into the tournament — definitely like I recognize that as an accomplishment. But really what I realize walking off the court was just how incredible this group was and just the brotherhood and camaraderie and cohesion and just everything about this group, man, the heart. That's really it. The heart of this group, man. I was just so proud to have made this run with these guys. And also I was happy that we were able to do this for everybody in the stands supporting us and everybody back home. That was really — just this group, so much heart.
Q. It might be a bit early, but what does this say about the program going forward? You guys have been resilient all season long. You had an incredible run in the tournament. And the number one team in the nation needed a miracle 3-pointer to beat you guys. What does that say about you guys going forward?
JOHNNY JUZANG: Yeah, I mean, UCLA, we're not a Cinderella program. I think that those days are behind us. We're still in the legacy. So much history here, and I know that's what we're here to do and Coach Cronin is here to do.
Q. Just want to know what was the inspiration of your chemistry with the team? How did that start? And how did that kind of develop, especially going through the tournament?
JOHNNY JUZANG: That's a tough one. I just have to say the character of everyone in this program, the coaches and also the players. Just the character of, you know, knowing where we are in the season. We have the opportunity. It's March Madness. And we're not going to let this opportunity by. And we obviously ended the season a little roughly, but everybody had the maturity and fight in them to not let that affect us. So the level of focus and effort, I mean, again, just heart. Just the character of everybody. Nobody was going to let this opportunity pass, and we were going to, I mean, again, leave it on the floor every night and see where it takes us. But we weren't going to go out and not be swinging. The character is just incredible. Incredible group. I can't say it enough. Grateful for these coaches and to call these guys my teammates.