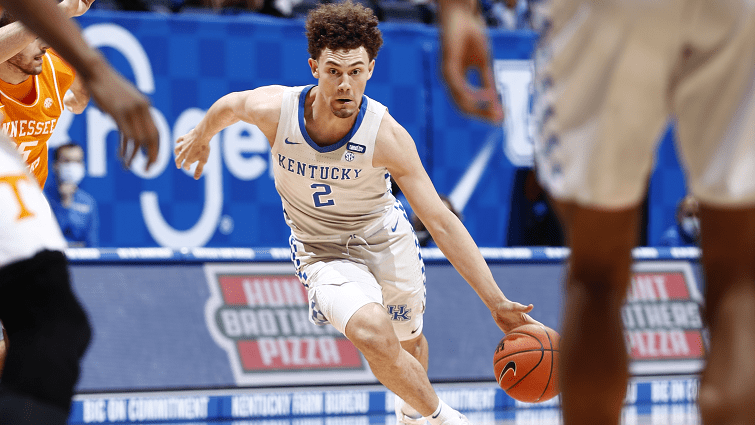 After his commitment to Kentucky, California point guard Devin Askew insisted he would not be another west coast player to spend a season at UK and then get homesick and return home. When he struggled often during UK's 9-16 season, he insisted he was all-in with the Wildcats. Less than a month ago his father reassured everyone that his son was not leaving Kentucky.
Guess what? Devin Askew announced Monday he was transferring from Kentucky. He said he was looking for a "new opportunity" but was "thankful" for the opportunity he had at UK with his teammates and coaches.
He started 20 games and averaged 6.5 points and 2.9 assists per game. However, he could not break down defenses off the dribble and was a suspect 3-point shooter that enabled defenses just to back off him. He was a five-star prospect and the No. 1 point guard in his recruiting class. He reclassified so he could come to UK a year earlier.
Kentucky has signed four-star point guard Nolan Hickman Jr., a McDonald's All-American, and added Davidson graduate transfer Kellan Grady, a 2,000-point scorer and combo guard.
Last season the Wildcats ranked 218th nationally in assists, 221st in turnovers, and 228th in assist-to-turnover ratio. That's why coach John Calipari knows he needs a big-time point guard for next year and one target is former Minnesota point guard Marcus Carr. He averages 19.4 points, 4.0 rebounds, 4.9 assists, and 1.3 steals per game for Minnesota last year. He was third in the Big Ten in both points and assists per game.
Carr, who started his collegiate career at Pittsburgh, has put his name int to the NBA draft and the transfer portal. He is considered the No. 2 player in the transfer portal by 247Sports. He has started 87 of 92 games in three seasons and has 1,361 points along with 473 assists, 370 rebounds, and 85 steals.
Carr will have until July 19 — 10 days before the NBA draft — to take his name out of the draft and stay in the transfer portal.
Maybe Askew was anticipating Carr or another point guard transfer arriving. Maybe he thinks Davion Mintz, who became the starting point guard at the end of the season, will opt to return to UK for an extra year. Maybe he just knew he was overmatched with the skills Calipari demands and needs from his point guard.
Rivals.com recruiting writer Krysten Peek thought it was "inevitable" that Askew would leave after UK's 6-19 season.
"It also helps seeing how well Johnny Juzang did at UCLA this past year after transferring from Kentucky and choosing a school in the Pac-12 that's closer to home and caters to his playing style," Peek said. "I wouldn't be surprised if Askew ends up at a Pac-12 school next season."
Another Rivals.com recruiting writer, David Sisk, also was not surprised that Askew is leaving.
"I wasn't convinced a few weeks back when he (Askew's father) said he was staying," Sisk said. "The bottom line is that John Calipari was going to keep recruiting in the backcourt, and with the possibility of Davion Mintz returning, Askew's minutes were going to get squeezed.
"That's the price of poker at Kentucky. The opportunity for roster upgrades is always going to be there."
Cam'Ron Fletcher entered the transfer portal immediately when the season ended. Brandon Boston and Terrence Clarke have both put their names into the NBA draft and hired agents. Isaiah Jackson has also put his name into the draft but has yet to hire an agent to confirm he won't be back next season.