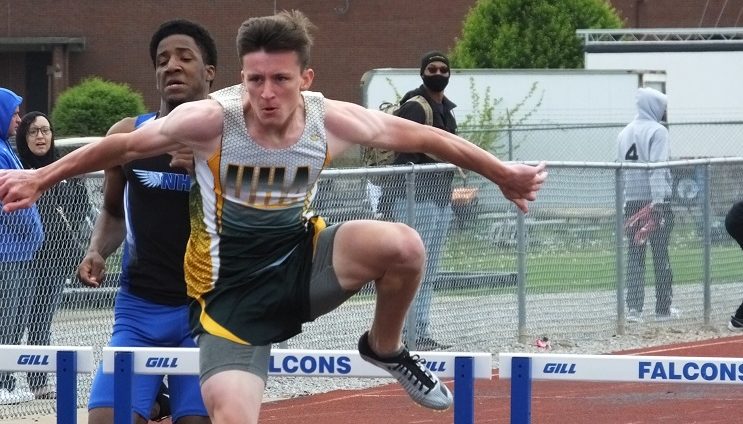 UHA's Connor Dill continued his strong start to the track & field season with a pair of hurdles wins at the Coach Johnson Memorial Classic at Fort Campbell on Saturday, helping the Blazer boys to a 6th-place showing with 68 points.
Dill won the 110M Hurdles with a 16.17 and held off North Hardin's Elijah Palmer in the 300M Hurdles with a 42.14.  He was also 16th in the 100M Dash and helped the 4x400M Relay to a 3rd-place time of 3:43.00 along with Mason Price, Tomas Duncan, and Walter Kunnmann.
Tomas Duncan also finished 2nd in the 1600M with a 4:34.20 and was a part of the 2nd-place 4x800M Relay time of 8:49.40 along with Tobias Duncan, Chase Hendricks, and Kunnman.
Sam Cotthoff was 2nd in the Shot Put with a throw of 40-09.00 and 4th in the Discus with a 93-08.  In addition to helping the 4x800M effort, Tobias Duncan finished 6th in the 3200M with a time of 10:45.90.
Mason Price was 7th in the 400M and 14th in the 100M, Kunnmann was 10th in the 400M and joined Trey Wyatt, Will Hancock, and Luke Shouse for a 5th-place showing in the 4x200M Relay.  Hendricks was 8th in the 800M and 14th in the 1600M.
Elvin Wagner finished 7th in the Long Jump with a 17-07.00 and 9th in the Triple Jump, Wyatt was 16th in the 400M, 22nd in the 200M, and 18th in the Long Jump, and Ray Farmer ran 21st in the 1600M 23rd in the 800M, 18th in the 3200M, and finished 18th in the Long Jump.  Joe Duncan was 21st in the Shot Put and 18th in the Discus.