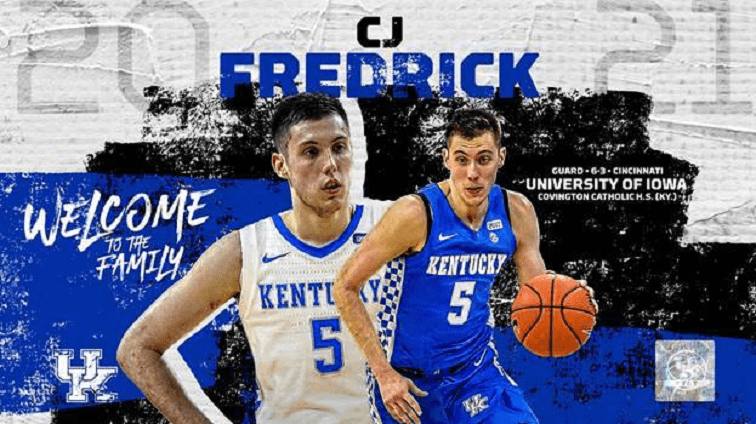 Photo - UK Athletics
A player familiar to many Kentucky fans— CJ Frederick — is coming home to the Bluegrass. The former Covington Catholic standout, who was never really on UK's radar out of high school, is transferring from Iowa to Kentucky. He has signed his scholarship papers with the Wildcats and should be on campus in a few weeks after finishing semester exams in mid-May at Iowa.
Frederick is exactly what UK needs — a long-range shooter who makes shots. The 6-3 guard averaged 8.8 points in 52 career games at Iowa after redshirting his first year with the Hawkeyes. He made 47 3-pointers as a redshirt freshman and hit 36 3-pointers last season. He shot 46.1 percent — best in the Big Ten — his freshman season and 47.4 percent last year — the 13th best 3-point percentage in Division I. He has hit three or more 3's in a game 11 times. He was a combined 83 of 178 from 3-point range at Iowa, a 46.6 percent mark.
Kentucky finished last season ranked 270th nationally in 3-point attempts per game at 19.1 and 172nd in percentage (33.6%). Now John Calipari has added a player with a shotmaking percentage close to Doron Lamb, UK's all-time leading 3-point maker at 47.5 percent. Cameron Mills is No. 3 on UK's all-time list at 47.3. Frederick is the same type shooter/maker.
In a statement released by UK after Frederick signed, he said he was excited for a "new opportunity" and appreciated the confidence Calipari had in him.
"I cannot wait to get back on the floor at Rupp Arena to help this team win and make Big Blue Nation proud," Frederick said.
Calipari likes that he has made big shots and big plays on the big stage already.
"CJ is a terrific shooter, but what stuck out to make on tape is he takes care of the ball –- he has an excellent assist-to-turnover ratio – and he can hold his own defensively. He guarded the best guard on the other team in just about everything I have seen," Calipari said.
"What I love about CJ is his approach in all of this. In every conversation I have had with him, he has a great plan of how he wants to improve and where he needs to take his game to get better. He wants to be challenged, he wants to be coached and he embraces competition."
Rivals.com recruiting writer David Sisk noted that Frederick had 52 assists and 10 turnovers last year to validate what Calipari said about taking care of the ball. He only had six turnovers after Dec. 20 and Sisk noted he was the only major conference player since 1993 to have a 2-to – assist to turnover ratio with at least 65 assists and shoot 46 percent or better from 3-point range.
He also has never backed down from a defensive challenge, something UK's backcourt needs. Frederick is also a player who can accept and play a role. His effort/play is not dictated by his scoring but don't doubt that he can score because he had four games with 20 or more points at Iowa and hit double figures 19 times.
Frederick will be a crowd favorite. He was the 2018 Kentucky Gatorade Player of the Year when he led Covington Catholic to a 35-4 record and state championship by averaging 23 points per game. He was sensational in the state tourney when he was named most valuable player and scored 32 points twice in games.
He's now part of Transfer U at Kentucky. Center/forward Oscar Tshiebwe left West Virginia midway of his sophomore season in December and joined Kentucky while Davidson grad transfer Kellan Grady, a 2,000-point career scorer, picked UK in March.
Calipari could still add another guard, or maybe two, from the transfer portal or may get a commitment from high school point guard TyTy Washington when he makes his college choice May 15.