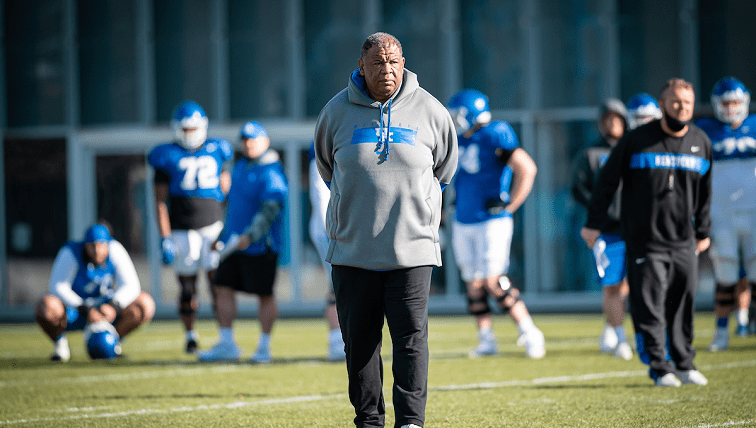 UK recruiting coordinator Vince Marrow has known Alex Afari since he was in the seventh grade. (UK Athletics Photo)
It really was not that long ago if Kentucky had got a football commitment from a four-star prospect that UK football coaches could be seen celebrating in a video posted on social media. No mention was made of the recruit due to NCAA regulations, but fans knew what the party was about.
Not anymore
It seems like just another day when Kentucky lands a four-star prospect like it did Friday with West Chester (Ohio) Lakota West cornerback Alex Afari. The 6-2, 195-pound Afari picked UK over Cincinnati, Virginia, Georgia Tech, Boston College, West Virginia, Washington State, Iowa State, Indiana and Pittsburgh.
Rivals rates him as a four-star prospect and the No. 33 cornerback in the high school class of 2022. He is also the sixth Lakota West player to pick Kentucky since Mark Stoops' arrival. One player, offensive lineman George Asafo-Adjei, was a NFL draft pick.
Afari got his offer after attending UK's junior day in 2019 and has been on campus.
He is the seventh four-star commitment in UK's 10-player 2022 recruiting class and that does not include Boyle County kicker Jackson Smith, the nation's top kicking prospect according to ProKicker.com.
Afari had 16 tackles and two interceptions, including a 30-yard return for a touchdown, last season and helped lead Lakota West to the Division I regional final with an 8-1 record.
Two of his teammates — offensive lineman Tegra Tshabol and cornerback Jyaire Brown (Ohio State) — have both verbally committed to Ohio State.
Afari told CatsPause.com several months ago he had known UK recruiting coordinator Vince Marrow since he was in seventh grade and that's why he had made several visits to UK.