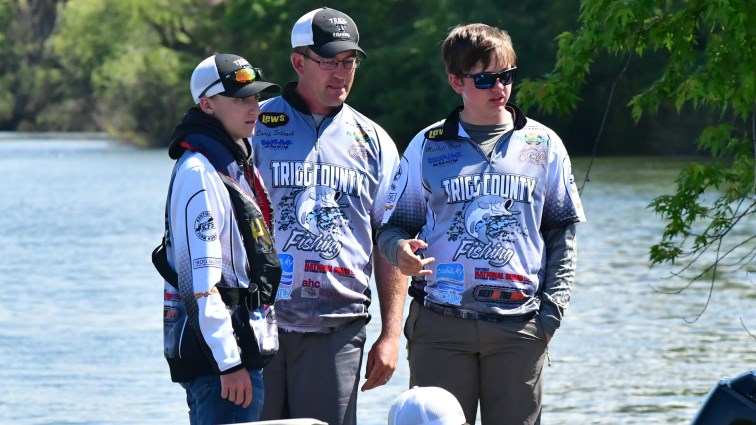 Trigg County is in ninth place after the first day of the KHSAA State Bass Fishing Tournament.
Mitchell Green and Christian Jones caught five bass weighing 11-pounds, 6-ounces.  Green caught a big bass that checked in at 3-pounds, 14-ounces and was the sixth-largest fish of the day.
Coach Scott Schrock captained their boat and said fishing, especially for big bass, has been slower than normal on Kentucky Lake this week.
Trigg's second team of Anthony Ethridge and Dominick Sabatino had no trouble catching fish. In fact, they culled two before coming to shore. However, their five bass weighed 7-pounds, 11-ounces.
Their day was summed up when Sabatino was on the weigh-in stage and asked to show off their big bass.  He replied, "there aren't any."
He and Ethridge stand in 58th place after day one.
The Muhlenberg County team of Lane Harris and Camden Tooley top the leaderboard with 15-pounds, 3-ounces. Apollo's Alex Morphew and Carson York are in second place with 14-pounds, 3-ounces.
84 teams brought fish to the scales Friday.  The second and final round is Saturday with weigh-in at Kentucky Dam Village State Park Marina.