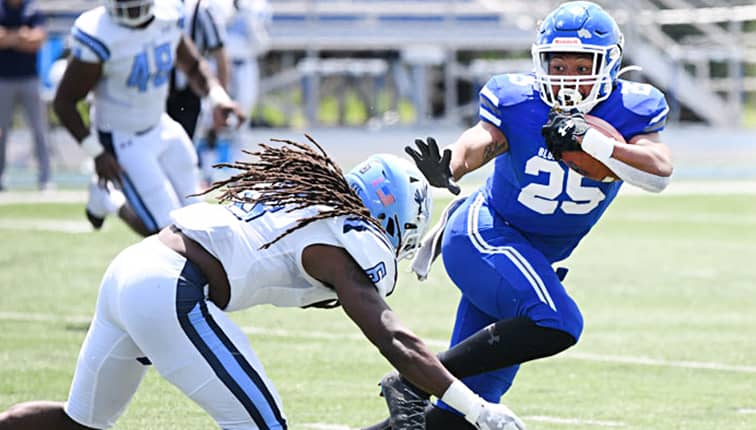 (Lindsey Wilson Athletics photo)
Former Caldwell County football standout Jaylen Boyd will play for a national championship Monday night.
Boyd's Lindsey Wilson College Blue Raiders will face the Northwestern Red Raiders from Iowa for the NAIA championship.
The national title game is scheduled for 6 p.m. at Eddie G. Robinson Stadium on the campus of Grambling State University in Grambling, Louisiana.
Boyd, a First Team All Mid-South Conference running back, has totaled 652 rushing yards this season while rushing for eight touchdowns.
Boyd, who recently became Lindsey Wilson's all-time leading rusher, ranks 31st in the country with 907 all-purpose yards, chipping in 10 total scores.
The Blue Raiders are 10-0 while the Red Raiders are 11-1.
The game will also be available on ESPN3. The Lindsey Wilson Sports Network will have a live audio feed beginning at 5:15 p.m. with the pregame show.
At Caldwell, Boyd is second on the Tigers' all-time rushing list with 5,451 yards. He owns the Tiger single-season rushing record with 2,041 yards in 2012.
The only Caldwell grads to win college national titles are thought to be Emma Talley, NCAA individual golf champion in 2016 at the University of Alabama; Trent Asher, NAIA baseball champion at Birmingham-Southern in 2001; and Billy Boyd, NJCAA champion on the Paducah Community College basketball team in 1969.
(Includes information taken from a Lindsey Wilson College press release.)