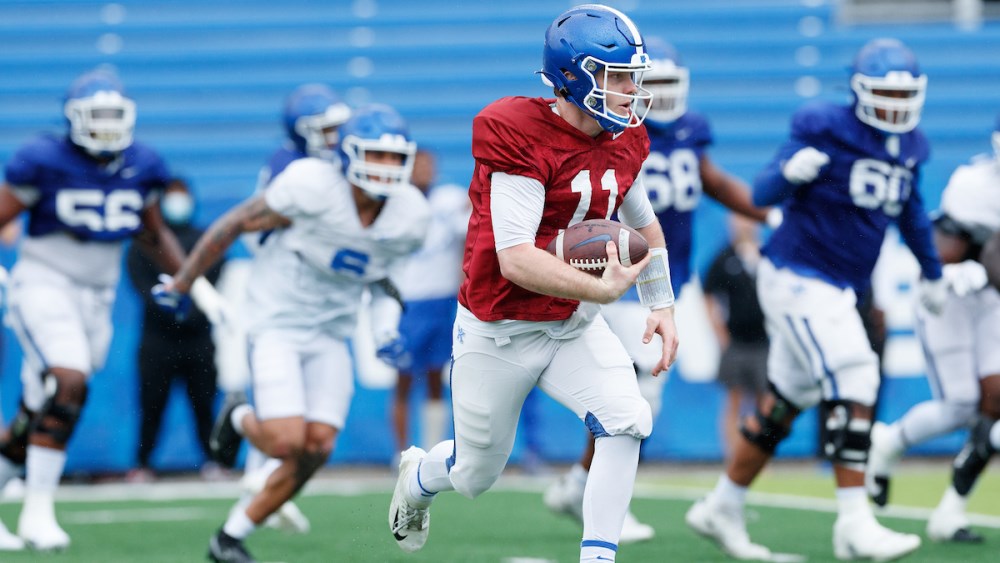 Beau Allen (UK Athletics Photo)
By KEITH PEEL
Since all the sports talk lately seems to be about UK Basketball — new assistant coaches, players that are returning or not returning, and potential changes to the offense — I thought it would be a great time to zig while everyone else is zagging. In other words, let's talk some UK Football. Specifically, let's talk about the Kentucky football quarterback situation.
Since Kentucky has become a football state, it seems pretty obvious that the quarterback battle at UK will be front and center during this upcoming fall practice. But actually, that battle has already begun. Summer off-season workouts are when most quarterbacks separate themselves from their competitors. Individual workouts and group workouts with the wide receivers allow each potential quarterback to develop a rapport with their receivers and improve their leadership skills with their teammates.
So which one of the five quarterbacks seems to be poised to take over that starting role in the fall?
Right now it looks like it could be a tight race between Joey Gatewood and Beau Allen with Will Levis in third place (because of his absence during spring practice) and Nik Scalzo and Kaiya Sheron working to improve their games for a potential role in the future.
Now I know some of you are thinking, "Yeah, but who do you think will be the starter?" (At least I'm hoping you are because if not this article is over).
But before we go there, let's look at what new UK offensive coordinator Liam Coen said at the beginning of spring practice about what he looks for in a quarterback. Coen said, "First and foremost, is the kid a competitor? Does he just absolutely can't stand to lose? Because everybody likes to win, right? "
"Everyone loves winning. If the kid just competes his tail off on every snap, doesn't lose, doesn't concede unless the smart play is to throw it away, but it's more about is this kid a competitor. He doesn't have to have a big arm. Accuracy is the most important. We can always fix the feet, so we always work on the footwork. It all starts from the ground up with the quarterback in terms of footwork, how to be able to throw the football. And obviously his mental capacity. You'd like for your quarterback to be able to handle some things, maybe some audibles, things like that. The capacity to be able to handle those things. I just feel like that's what we're looking for."
So it looks like the checklist for the next UK quarterback is they must be an all-out competitor, have to accurately throw the ball, and have a great mental capacity to be able to read the defense and adjust to a different play call at the line of scrimmage.
So does running ability have anything to do with it? After all, two of the top three candidates came in as dual-threat quarterbacks, and UK always in the past recruited quarterbacks that were known as much for running as throwing the ball.
Here's what Coen said about the importance of a quarterback's ability to run the ball in his offense, "The more athletic he can be the better. If the quarterback can be able to run and make plays, we will absolutely incorporate the quarterback run game. I believe it's important at the college level as it is in the NFL. It causes people fits. If that's what we have and that's the best guy, we will absolutely do some of those things as long as it's in alignment with what Coach Stoops wants and foresees out of his offense. Ideally, we'd like to find someone who's a true passer first but can extend plays and make plays out of the pocket."
So knowing what Coen is looking for in a quarterback, where does that leave the quarterback race going into the summer months? Well, my next couple of articles will cover who I think will emerge as the starter for the first game in September and why and who will be the guy that is most likely to be the starter by the end of the season. Hopefully, you'll come along for the ride.