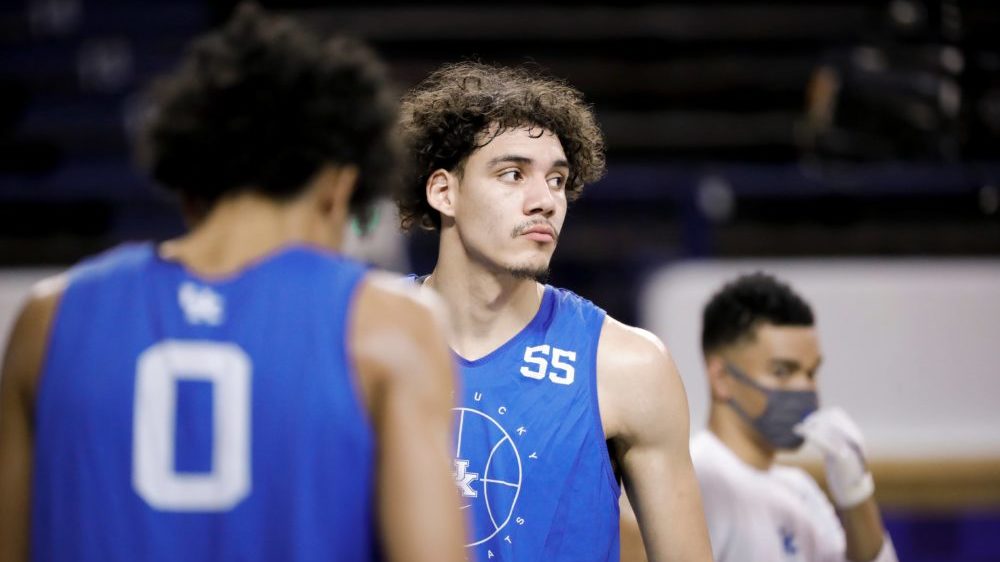 Lance Ware (UK Athletics Photo)
When Lance Ware got to play during Kentucky's 9-16 season he always did one thing — he played hard. Maybe he wasn't always the most efficient player but his effort was consistent in the 21 games he played while averaging two points, three rebounds, and 12 minutes per game. During UK's media time Wednesday at North Laurel during one of Kentucky basketball's satellite camps, Ware said to expect a lot more during his upcoming sophomore season.
"You can expect a leader. Keep the same stuff obviously I was doing last year. Playing hard. But the big thing I'm working on is learning from my mistakes, watching film of last year," Ware said.
That's the kind of maturity one would expect from a second-year player.
"As a freshman, I made some freshman mistakes, silly mistakes. Fix all that and be able to stay on the court and make an impact," Ware said.
Ware is part of an older roster at Kentucky this season. Last year he joked he was always asking sophomore Keion Brooks questions and knows now it is his turn to help UK's freshmen as well as transfers who have not played under coach John Calipari.
"It's different being at Kentucky," Ware said. "The (transfers) might have been at school for two, three, four years but at their school, it wasn't like this."
Ware said it is already obvious that the roster additions are going to add needed outside shooting for Kentucky next season.
"Guys can really shoot the ball. Bigger than shooting the ball, I just see a lot of guys out there who know how to play basketball. That's huge," Ware said.
Huge is a strong statement but Ware is right. Kentucky has had a lot of athleticism the past few years but sometimes athleticism is no match for basketball skills and IQ.
"If you can shoot the ball but you don't know how to run an offense or don't understand the game, it's not that effective," Ware said. "But I see guys that know how to play the game and can shoot and can score and pass. That's what I'm most impressed about."