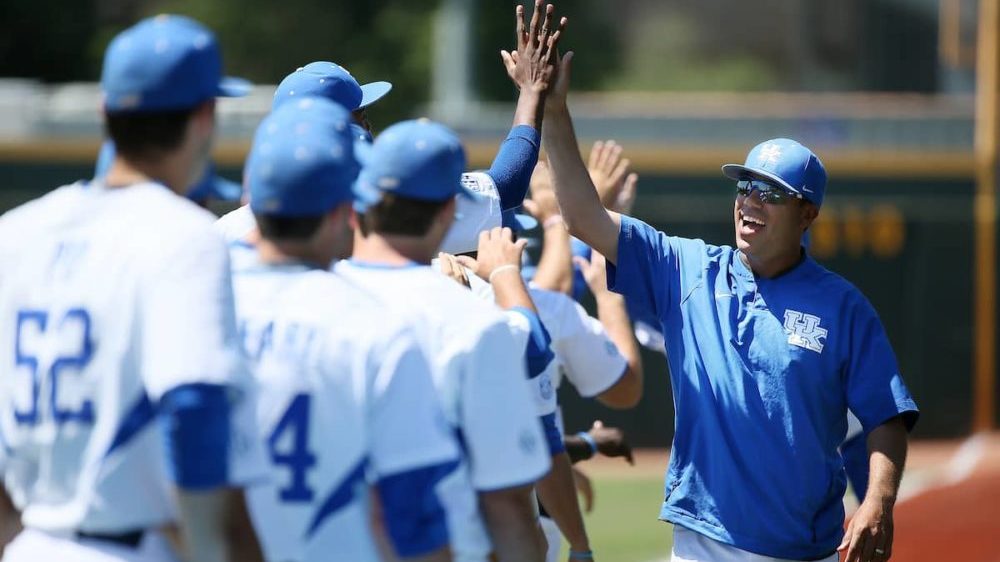 Nick Mingione knows making the NCAA Tournament is expected and his teams have not done that since 2017. (Vicky Graff Photo)
Nick Mingione led Kentucky baseball to its first Super Regional in 2017 but since then UK has not been back to the NCAA Tournament or even won a game in the SEC Tournament. Even though he got a three-year contract extension before the 2021 season, Mingione is looking at a troubling offseason. He has had nine players put their names into the transfer portal and could lose several key returning players and/or high school signees to the Major League Baseball draft.
Yet Mingione is as convinced as ever that he can right the ship even in the competitive SEC.
"When I got this job I honored every scholarship commitment. It is rare in our sport when you get hired to honor every commitment. It helped me but also hurt me some," Mingione said. "We had a change in recruiting coordinators two years ago. When you have change, there will be player turnover.
"I have carried a bigger roster than most baseball teams. Kids in the transfer portal just want to play. I have brought in some really big recruiting classes and parents are paying a lot of money (because baseball has only limited scholarships) and their kid is not playing. Now with the portal, they can transfer and not have to sit out a year and hope to play."
Mingione noted recently there were over 2,000 baseball players in the transfer portal, including many on some of the nation's top teams, and he hopes to find help for the 2022 Wildcats through the transfer portal.
"Mississippi State has one fewer person in there than us. Arkansas, the No. 1 team, has two fewer than us," Mingione said. "We have a big roster and if you do that you are going to have more transfers. They want to play. I get that."
Left-handed pitcher Dillon Marsh did play. He started 14 games in 2019 as a true freshman and pitched in 29 innings out of the bullpen last season with a 4.34 ERA. He was being counted on for a bigger role next season before he opted to transfer.
Mingione said the 2021 season was a "really hard year" for his team. Kentucky finished 29-23 overall and 12-18 in SEC play.
"I know we had a good team, but the rest of the league is good, too," the Kentucky coach said. "We were two SEC wins short of making the NCAA. Three years ago we were one win short when they would not let 10 SEC teams into the NCAA.
"But quite frankly, we have to do better. We just have not been quite good enough. We understand that and we will do better. We want to be back where we were a few years ago in a Super Regional. We are going to be out there recruiting and watching the portal. I just want people to understand things are not as bad as some think.
"Sure, we were disappointed when we didn't make the NCAA and know that is what is expected and that's what we intend to do going forward."