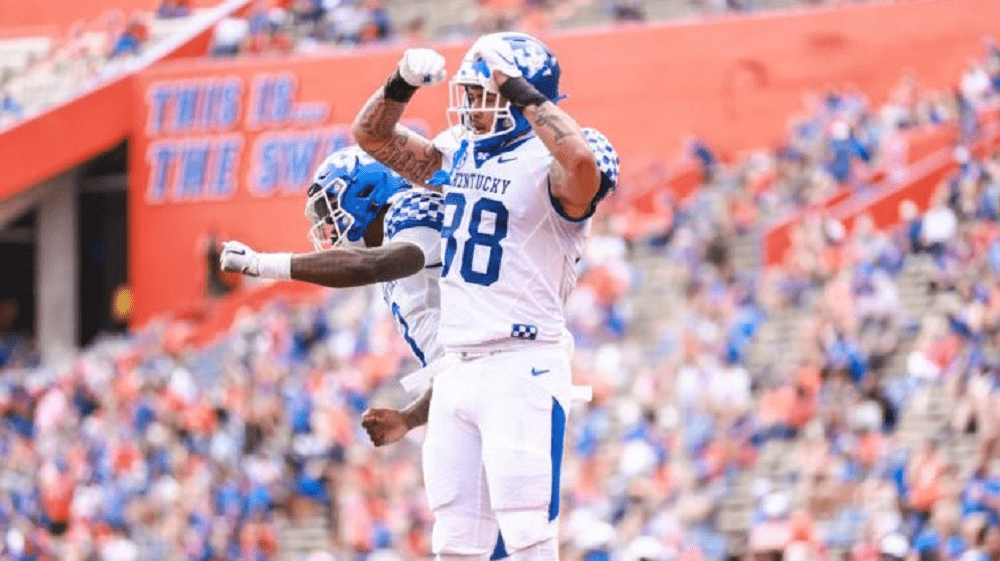 Keaton Upshaw seemed like a perfect fit for UK's new offense but now a summer conditioning injury could keep him out all season. (Vicky Graff Photo)
One player many thought could be an offensive breakout star for the Kentucky football team this year is tight end Keaton Upshaw because of his size, strength, motion, and soft hands. He's never really had a chance to showcase his pass-catching talent in UK's run-oriented offense but with new offensive coordinator Liam Coen brought in to diversify the offense, Upshaw looked like a perfect candidate to emerge as a big-play threat in the SEC.
Upshaw finished with 16 catches for 198 yards and three touchdowns last season and proved to be a reliable threat in the passing game.
However, he may now miss the entire season due to a summer conditioning injury. Kentucky coach Mark Stoops would not provide any details of the injury during the SEC Media Days Tuesday in Hoover, Alabama, but others have reported it was a pectoral muscle tear.
"Traditionally speaking, that is a season-ending injury, but we'll see and we need to confirm that," said Stoops Tuesday. "I don't have any other news other than that at this point. I spoke with him this morning.
"I just feel terrible for him. I know he's very down. He has had a remarkable summer. Really has been on point and working extremely hard like all of our guys and was really excited about the year. I'm just very disappointed for him. We'll see where it goes."
Both Brenden Bates and Justin Rigg have significant playing experience and UK also added freshman Jordan Dingle of Bowling Green. So if Upshaw cannot play, one or more of them will need to step into the primary tight end receiving role Upshaw was expected to fill.
"They have a tone of experience and they're both extremely good players," Stoops said about Rigg and Bates. "We like having a lot of tight ends with what we're doing offensively."