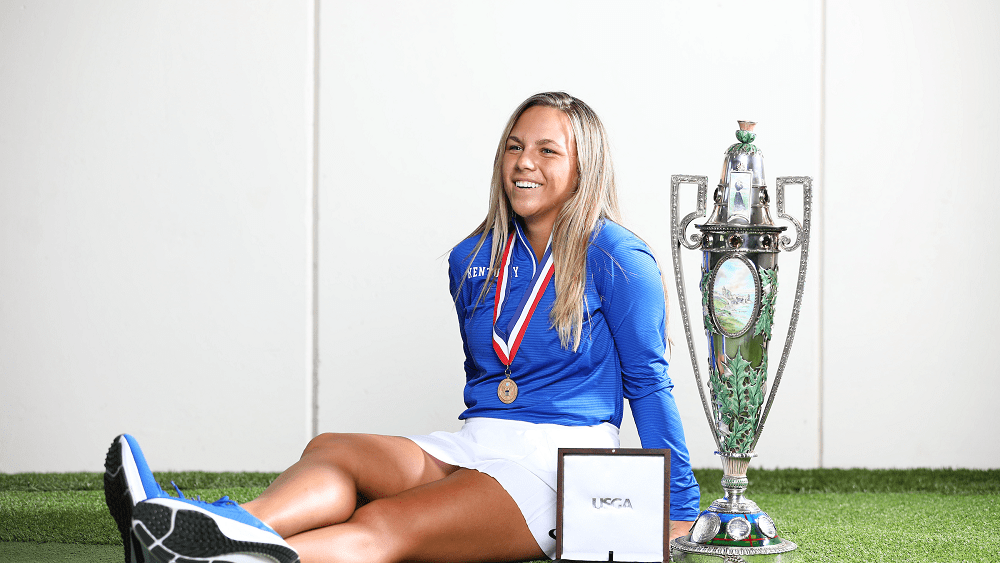 Jensen Castle is glad to be back in a more normal routine going into her junior season. (UK Athletics Photo)
Jensen Castle had immediate success when she came to Kentucky, which was no surprise since she was the highest-ranked golfer ever to sign with the Wildcats. She led the team in scoring her freshman season but last season slumped to where she had only the third-best scoring average on the team. Still, she contributed to the team scoring in 30 of 33 rounds.
Of course, Castle exploded this summer. She became the first UK golfer to win the U.S. Women's Amateur Championship. That put her on the U.S. team that won the Curtis Cup in Wales.
So what happened during her sophomore season to put her in a "slump" of sorts?
"First, I came in as a freshman with no expectations and played super well. This past year, especially with COVID in the fall, rules were so strict. We never had a stress reliever," Castle said. "No one could get away. All we had was golf and no other outlets.
"Going into the spring season I did a better job getting organized and finding outlets to relax."
However, the grind still took a mental and physical toll on her. She remembers playing eight or nine weeks straight, including the U.S. Open qualifier, SEC Tournament, and NCAA Tournament along with the U.S. Open she did qualify for.
"By the time I got to the NCAA Championship and Open I was miserable and burnt out. I had eight or nine straight weeks of golf and travel," she said. "It did not help that I had high expectations after my freshman year and did not play up to those expectations."
At some point, she injured her rib and had to take time off until just a few days for the Amateur Championship started. She walked about 60 miles during the Amateur Championship including the practice rounds. She had to take time off again after the Curtis Cup where she would go three days without swinging a club, swing a day, and then three more days off.
"Our trainers have helped take really good care of it (her rib). They make sure I get the rest I need and I feel a lot better now," Castle said.
Now she's set to open her junior season today in Ann Arbor, Mich., in the Wolverine Invitational on the same course that will host one of four NCAA regionals in 2022. No. 17 Virginia, No. 20 Virginia Tech, and No. 25 Kent State are all in the field along with No. 23 UK.
"This year I am going to enjoy every moment and I love the routine of school and having the same routine every day and now I have that," Castle said. "That's a little harder coming off the Amateur and Curtis Cup but it is about playing my best golf. There are a lot of good players out there and a ton of tournaments. But I know there is a lot of stuff I can do better."