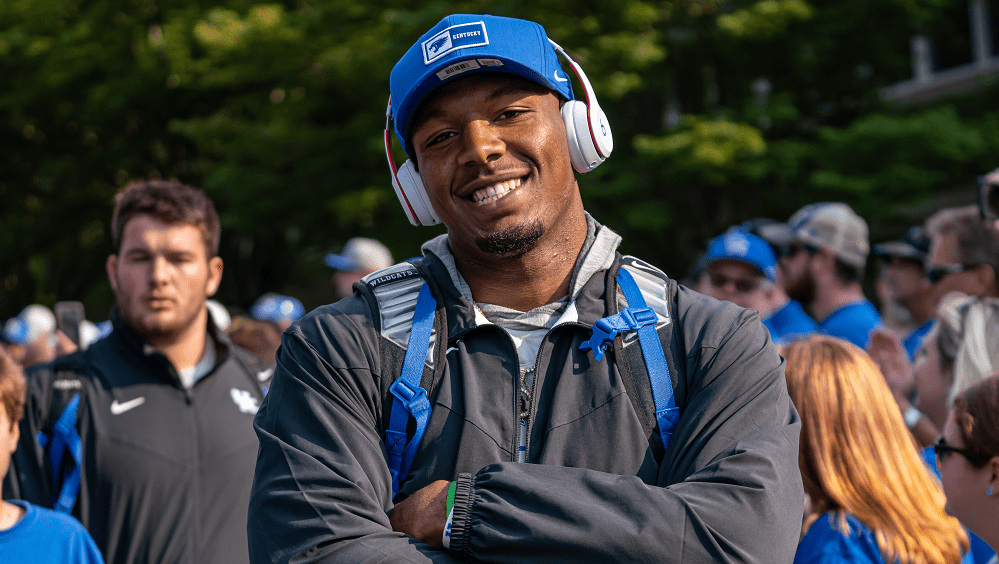 JJ Weaver was all smiles during the CatWalk before Saturday's game against Missouri. (UK Athletics Photo)
If JJ Weaver was still not ready to play after suffering a knee ligament injury late last season, it would have been understandable. Yet the sophomore linebacker not only has been playing but making big-time plays like the sack he had on Missouri's final drive Saturday night to help preserve a 35-28 Kentucky victory. It was one of two tackles for loss he had in the game and his third of the season despite only limited playing time.
But Weaver was a rehab terror and had his own emotional motivation. His father was murdered in June of 2020 and then his Louisville high school coach, Rob Reader, died about a month ago after a battle with cancer.
"Through this rehab, I worked my butt off. My father passing and my coach just passed, so like I told y'all (in the media) at fan day, all this pain, every team is going to feel my pain," Weaver said.
No wonder Weaver didn't have the normal reaction to his potential game-saving sack against Missouri.
"I thought about my dad, coach Reader. They was all with me just tonight," Weaver said. "It's a blessing."
Weaver's play has been a blessing for the Cats. He has a team-high 2.5 quarterback sacks and is 10th on the team in tackles with five despite his limited playing time because coach Mark Stoops does not want to chance using him too much.
Stoops was aggravated with his team's overall defensive play Saturday and when I asked him about the key sack he at first said "I'll have to see what he did " while acting like he didn't know he was the one who got the sack.
"Oh, did he? Oh, I didn't know who got it. We overloaded that side. He probably came scot-free with the pressure we had," Stoops said. "So I can't give him too much credit for beating someone on that.
"Yeah, we called the overload, you know, there and it was a nice call by (defensive coordinator Brad White). And we got — it was a big play."
White said UK was able to "roll the right one" on the call for the pressure that enabled Weaver to get the sack.
"He did a nice job of finishing it. When you get the opportunity to be free on a quarterback, you got to make sure it counts, and he did it in a very opportune time for us," White said.
Weaver said the original play call had him dropping into pass coverage before the call was changed.
"They looked the opposite way so we had to change it real fast. Once we changed it I said, 'Oh yeah, game on the line coach,'" Weaver said.