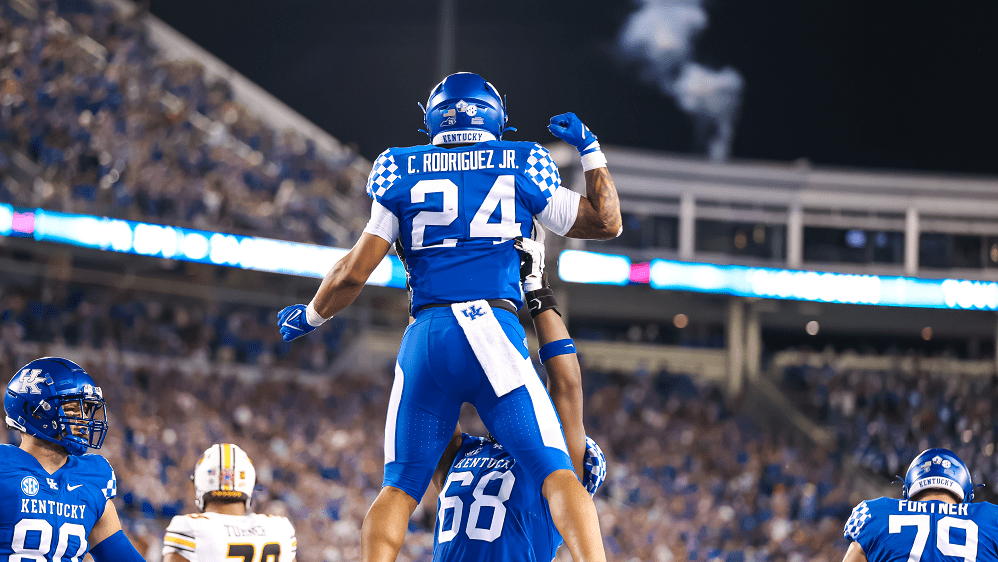 Chris Rodriguez (24) celebrated after a touchdown against Missouri. He hopes to celebrate with UK fans Thursday during his autograph signing. (UK Athletics Photo)
He has seen former University of Kentucky teammates Josh Allen, Benny Snell and Lynn Bowden do autograph signings for UK fans after their playing careers ended. Now with the new name, image and likeness protocols, he's going to do one of his own Thursday after rushing for a career-high 206 yards and three touchdowns on Saturday.
"I am really curious to see how it will go," Rodriguez said on WLAP Sunday Morning Sports Talk. "I have never had an actual signing with fans. We'll see how it turns out but I would like to think I could do a lot more during the season."
This signing will start at KSBar in Lexington Thursday at 6:30 p.m. and go until 7:30. He also has his own merchandise line at https://www.crodjr.com.
"I want everybody to pop out (and come)," Rodriguez said. "This is all very exciting for me. This is what I have really wanted to do when I came to college …. interact and get my name out there. Last year was unfortunate due to COVID. It will be good to have that signing and meet fans.
"On my website, there is everything from hats to shirts to hoodies. There is some nice stuff and I feel everybody should check it out."
There is also a way on his website to connect with him for other name, image, and likeness opportunities.
"The NIL stuff has been smooth on our team. Not a lot of people really talk about it because a lot of people do not want their business out there," the UK running back said. "It has been good for me. I am getting a lot of help from Athlete Essentials and it is kind of fun to interact with different companies."