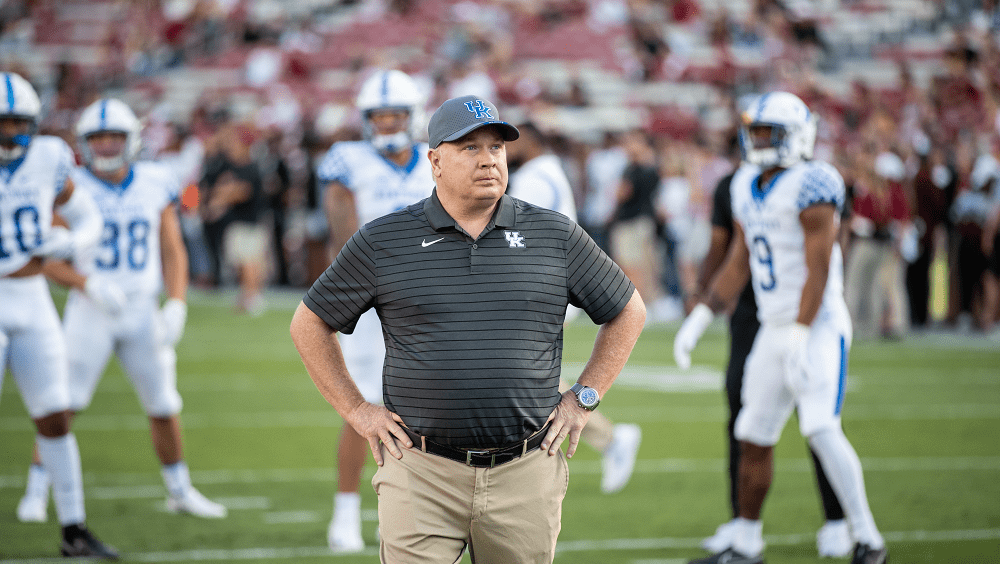 Mark Stoops knows his team can't keep playing with fire and continuing to make turnovers. (SEC Photo)
Okay let's take time to remember a few things about Kentucky's 16-10 win over South Carolina Saturday night. First, Kentucky is 4-0 overall and 2-0 in Southeastern Conference play. According to UK stats guru Corey Price, between 1951 and 2006, UK football started a season 4-0 or better just 3 times (1983, 1984, 2002). Since 2007, Kentucky has started a season 4-0 or better 4 times (2007, 2008, 2018, 2021).
Second, UK won despite losing two fumbles and throwing one interception. Kentucky is now minus-nine in turnovers this season but somehow is still 4-0 overall and 2-0 in SEC play.
Third, Kentucky coach Mark Stoops is 7-1 in the last eight years against South Carolina, a team UK needs to keep beating to bolster its chances of continuing to improve its program. Based on defensive lineman Marquan McCall's Instagram post, Kentucky was even playing "Sandstorm," the song South Carolina plays often during games, in the locker room after the game.
Okay. Now it is okay to worry about the two Chris Rodriguez fumbles or two more fumbles by Josh Ali along with the struggles quarterback Will Levis had. Levis was 15-for-22 passing but for only 102 yards — less than seven yards per completion. He also threw an interception.
"Obviously it sucks looking at the turnovers but it is encouraging to see we can still win games like that despite turning the ball over," Levis said. "Once we clean that up we will be a much better team and show our true potential."
Stoops said eliminating turnovers would be a point of emphasis — even though I am guessing it already has been the last few weeks.
"I am not happy about that (three turnovers)," Stoops said. "We've got to get it corrected. No excuses for it."
Plus, Stoops knows eliminating turnovers is a must with games coming up against Florida, LSU and Georgia.
"You can't win big games (with turnovers). You can't keep playing with fire," he said.
Normally when Kentucky played with fire, it got burnt. But you can only test the football gods so many times. The Cats have to eliminate the turnovers (they have 11 this year) — along with some costly penalties and mental mistakes.
Kentucky fans have been hoping for a 4-0 start this year for months to set up huge home games with Florida and then LSU the next two weeks. Levis and linebacker DeAndre Square, who had a team-high eight tackles, said the players understand even at 4-0, they have to continue to focus on one day, one game at a time.
Levis said he would be back watching film today to get ready for Florida.
"I am not looking forward to anything," he said.
Square has the same mentality.
"Just worry about ourselves and go out and prove we can compete with anybody we step on the field with. Just focus on us and get each win one by one," Square said.