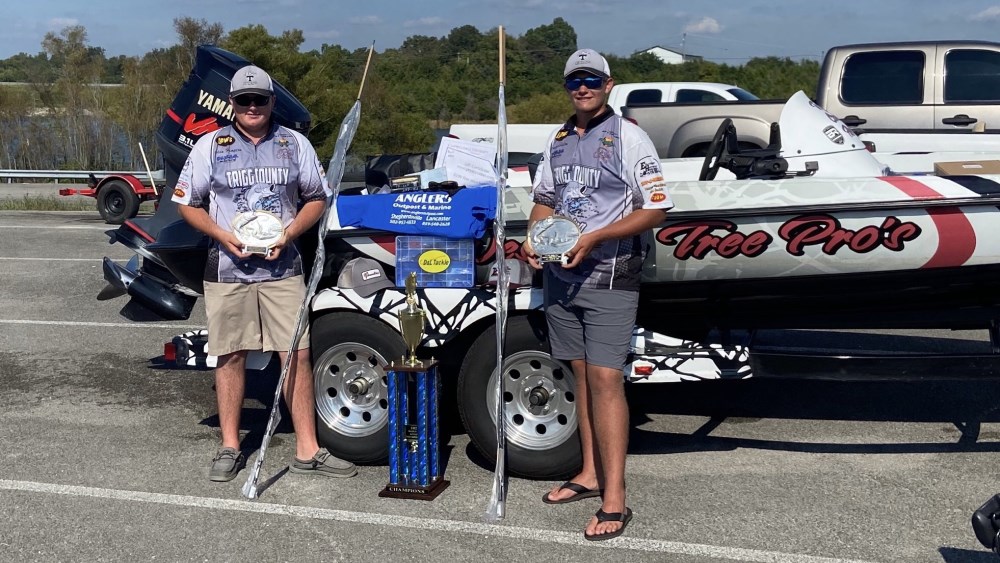 The Trigg County fishing duo of Hunter Shelton and Jordan Hampton won the ninth annual Bradley Roy High School Fishing Open Sunday sponsored by Kentucky BASS Nation.
On Saturday, they caught two fish on Lake Cumberland weighing 5.11 pounds. They were 4.34 pounds behind the first-place team from Southwestern High.
The duo fished on Cedar Creek Lake, not knowing their final day destination until early Sunday.  They fished for two-and-a-half hours and returned to the ramp for a 30-minute rest period. They then finished the round with two-and-a-half hours on the lake.
They caught three bass weighing five pounds and four ounces to win by less than a pound.
Shelton and Hampton each won $750 cash scholarships for the win and a $10,000 scholarship to Campbellsville University if they chose to attend school there.
The tournament win is the first for a Trigg County fishing team outside of KHSAA competition.
Gary Houha is the boat captain for Shelton and Hampton.