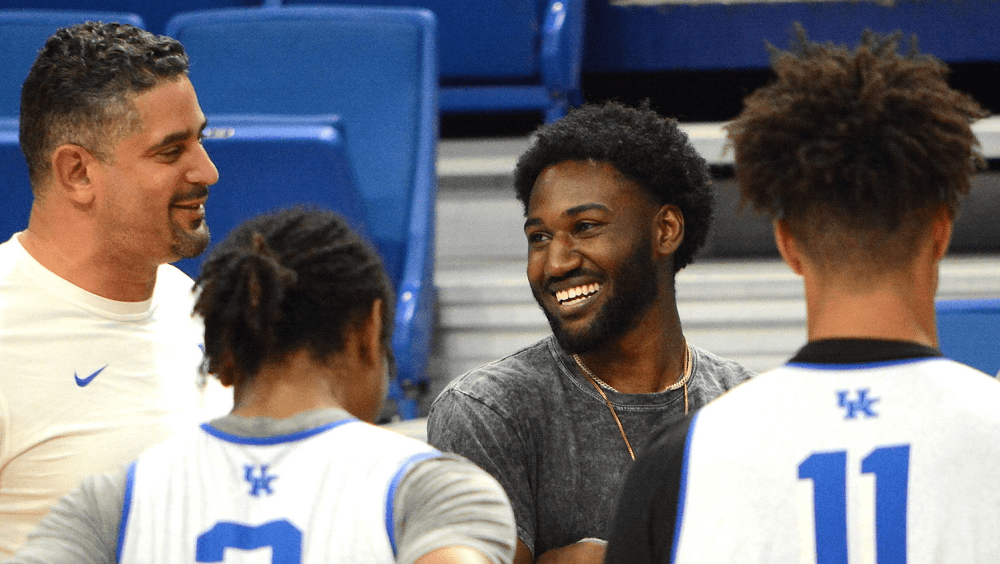 Former UK basketball player Dominique Hawkins talked to John Calipari's team before practice Monday.
A familiar face was a visitor at Kentucky's open basketball practice for media members and a holdover of NBA scouts who attended Pro Day on Monday. Former Kentucky Mr. Basketball and Madison Central High School graduate Dominique Hawkins was on hand to catch a glimpse of the upcoming Wildcats ahead of Big Blue Madness set for Friday night at Rupp Arena.
Kentucky coach John Calipari was pleased to see his former guard in attendance and recalled the impact Hawkins had while he played for the Wildcats.
"(I) absolutely loved his competitiveness, his team-first approach, and the joy he brought into the building every day," the Kentucky coach said. "It didn't matter what was happening, he always had a smile on his face."
Hawkins delivered a message to the current team. Calipari said Hawkins told the Wildcats to "enjoy every moment here and relish the opportunity."