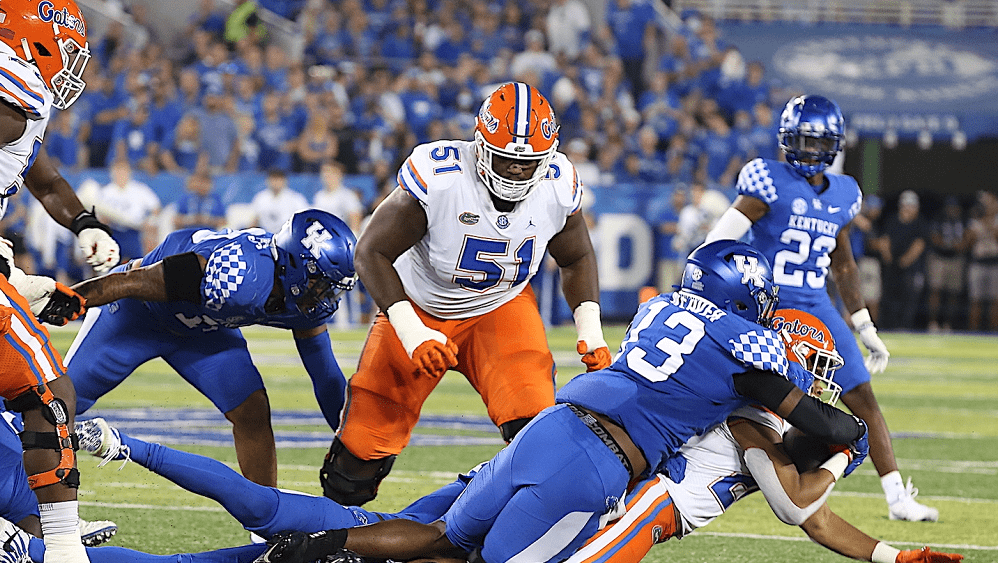 Kentucky coach Mark Stoops knows his team has to be physical against No. 1 Georgia. (Vicky Graff Photo)
Kentucky is coming off consecutive Southeastern Conference wins over Florida and LSU that took a physical toll on the Cats. Now they have to play at No. 1 Georgia when several key players are definitely out and a lot more are playing at far less than 100 percent.
However, Kentucky coach Mark Stoops insists his all-out approach is not changing this week because of his team's physical limitations.
"We haven't changed our approach in the last several weeks as far as me and my practice schedule. We haven't changed. Again, I said it last week on Monday or the week before and I'll say it again. We are going hard. There is no laying off the gas, we are banged up, we are beat up," said Stoops.
"I don't give a crap. We are going hard. We are going to be who we are and do the best we can."
Knowing Georgia is ranked No. 1 does not impact Stoops' preparation plans but if that helps inspire his players, he's fine with that.
"Whatever they need to motivate them and whatever they need to sacrifice – getting a little extra sleep, eating good, watching a few extra snaps or watching a few extra minutes a day on film – whatever individually needs to motivate us. But our process, our preparation needs to be consistent if we want to be what we want to be," Stoops said.
Stoops knows preaching hard work and discipline as the keys to success gets repetitive but he also understands how hard it is for a team to keep doing that.
 
"These guys have a lot on their plate. They are physically and emotionally going through a lot. There is quite a bit that goes into a week. The preparation and that needs to stay the same, yes," Stoops said.
"But again, they are physically beat up, they are mentally beat down. They have school, they have a lot of things on their plate. They know the systems and the processes that we have in place to be successful. They know that, but they have to go do it, we all have to do it."