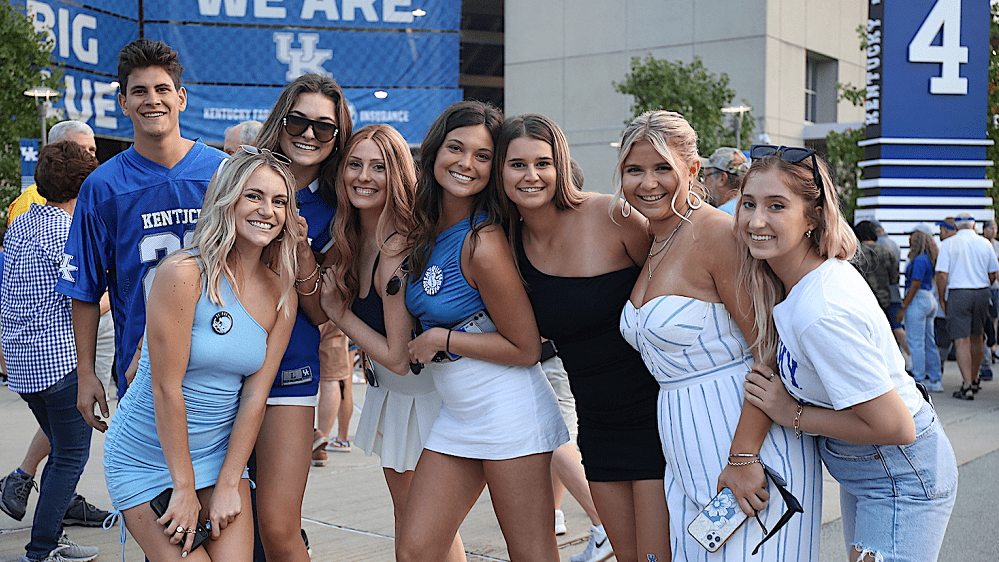 Kentucky fans gave UK a huge home-field advantage the last two games. It won't be that way at Georgia. (Vicky Graff Photo)
Kentucky had two terrific crowds at Kroger Field in wins over Florida and LSU to help elevate the Cats' play. That won't be the case Saturday at No. 1 Georgia.
"We prepared for it going on the road to South Carolina," Stoops said. "Obviously this is a different team, different environment. Hopefully, we learned from that experience just as far as our operation, our preparation."
Different team and way more rabid fan base. Georgia sees itself on a path to a national title and is a 22-point favorite over No. 11 Kentucky. Stoops hopes the hostile atmosphere might help his team.
"Guys feed on that sometimes too. Even though it is hostile, there is something different about it. You have to do it. You know you're going into some tough environments, so you better embrace it," the UK coach said.
I said it a long time ago in one of the games, but run to the roar, man, enjoy it. You are going to hear it, there will be rocking. You better embrace it and play at a high level, because you can't hide from it."
No, there's no hiding in a battle of unbeaten teams for the SEC East lead when the game is on CBS-TV and ESPN Gameday is on location. The eyes of the nation will be on this game.
Georgia coach Kirby Smith is counting on a favorable atmosphere to help his team.
"This game speaks for itself. What it means, who we are playing, what the rankings are, what's at stake. I think our fans are educated enough to know the importance of this one. Their impact could be the difference in the game," Smart said.
"I don't think sometimes they acknowledge that because they think that everything's going to be easy and it's going to be home. You can't think that way. You can't be apathetic as a fan and think, 'Well, we're Georgia.'
"That's not the case because this is a high-quality football team. We need the extra advantage of playing at home just like we had to go up against it last going to Auburn. We need that same advantage this week."