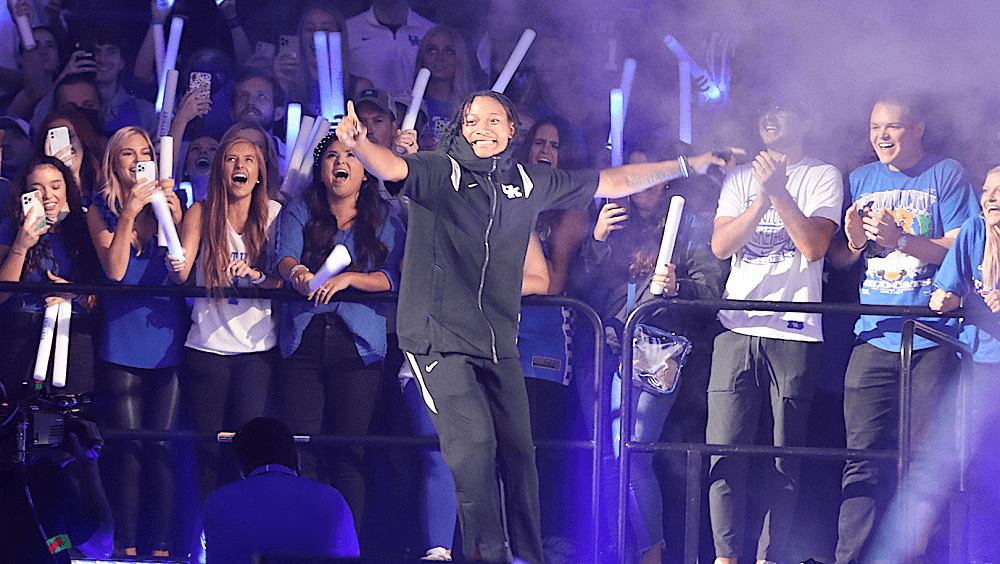 Freshman TyTy Washington was excited when he was introduced Friday night. (Vicky Graff Photo)
Every year when I leave Big Blue Madness I tell myself that is my last one.  Yet every year I get excited when the date is announced and apply for credentials. There is just something special about it.
The taste of that first ice cream of the season for the fans, the anticipation of what song and dance each player will use for their introduction and this year, and for the first time in 19 months Rupp was sold out.
Prior to the women's basketball introductions, a Welcome Back/Welcome Home video was played for the crowd. There were more than a few eyes being dabbed when the lights came on.
How to top the dance routines by Coach Matthew Mitchell? Coach Kyra Elzy descended from the rafters of Rupp. Shimmying down a rope to an ovation from the crowd only to be upstaged by her adorable son who joined her on stage and stole all her thunder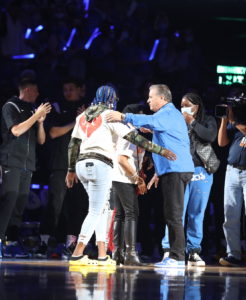 There was a 3-point shot contest won by Rhyne Howard and a blue/white scrimmage.  The scrimmage was just for fun. However, it should be noted that Treasure Hunt has the most beautiful eyelashes I have ever seen.
The men's introductions are the usual some dance hard, some barely wiggle. However, Dontaie Allen wins the night with his intro to Wacka's "It's a Party."  Rupp hasn't rocked in unison like that for a long time.
Coach John Calipari gave his usual pep/thank you talk to the BBN while tooting his own horn and the fans' horns also. His speech ended with a unison chant of Go Big Blue intended for the recruits in attendance.
Terrence Clarke's family was given a standing ovation and love from every fan in Rupp.  The look on faces of Lance Ware and Davion Mintz faces told the story of the struggles this teamed shared both off and on the court last year.
This team is going to be fun to watch. They play hard and run fast. I am not going to make any predictions. That didn't work out very well last year for anyone.
2021 Big Blue Madness is in the books.  I would say I won't be back next year but that would be a lie. 
— Tina Cox, Contributing Writer