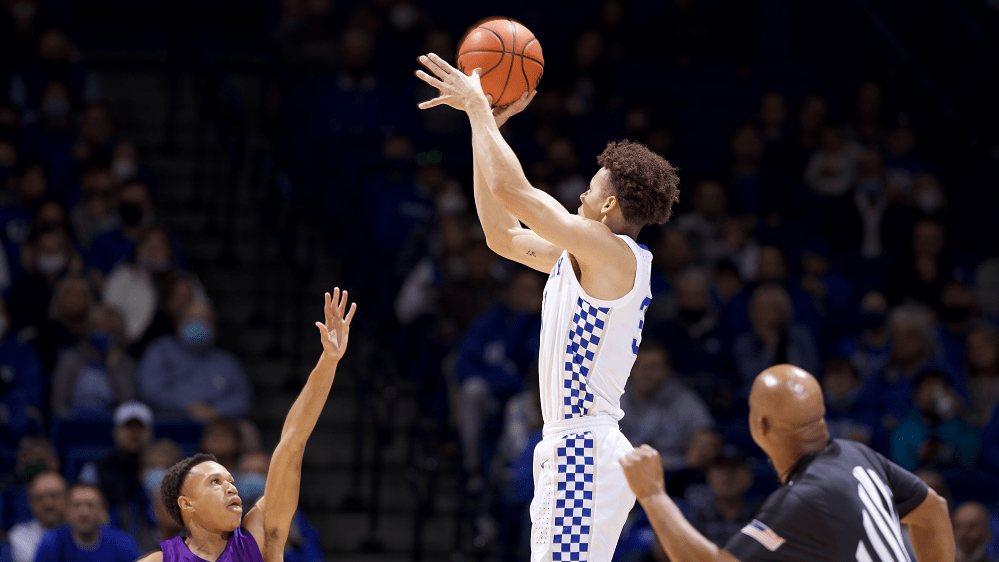 Kellan Grady had 13 points in Friday's win. (UK Athletics Photo)
The preseason is officially over following Kentucky's second exhibition win over Miles College Friday night. When the big lights at Madison Square Garden turn on Tuesday night in New York the 2021-22 season officially begins.
It is time to erase the horrid nightmare last year produced. It's time to make new memories with a team fans already feel more attached to than last year's roster.
Now a look at the 80-71 exhibition victory.
THE UGLY
The first half  defined ugly. Discombobulated is the first word that comes to mind. The Cats had no energy and looked out of place on every possession. Miles College took advantage of the total lack of perimeter defense. Miles put up 25 points in six minutes. The Bears shot 73.3 percent from 3-point range in the first half living up to the curse of Kentucky when a lesser known team comes to Rupp and makes it rain 3's.
Twitter BBN can be the best and the worst. The tweets were cruel. The season hasn't even started and fans are tweeting this is going to be just like last year. I would so love to take a screenshot of these tweets, blow them up, place them on a poster board and have someone hold them up while sitting on the second row of the NCAA Tournament watching Kentucky. Rant over.
THE BAD
Oscar Tshiebwe finished the game with four points and 12 rebounds. He was 2-for-5 from the line. Miles had no big presence in the post yet there was no domination from the Cats. In fact, Tshiebwe looked lost without a big body to bang.
The development of Lance Ware, Daimion Collins, and Bryce Hopkins will be vital to the success of this team and will dictate how deep their run can be in March.
THE GOOD
Sahvir Wheeler is a dog. Those that questioned John Calipari's decision for his transfer tonight got their answer. Calipari has his point guard. He is gritty, he is scrappy and he is a leader.
TyTy Washington is a star. Don't be surprised if he goes off on Tuesday under the big lights against Duke. He plays every play with a smile on his face and will continue to shine.
It is going to be hard to keep Jacob Toppin on the bench. He showed tonight why he is considered the best lockdown defender on the team and his energy ignites all players surrounding him. Keion Brooks could lose some playing time if Calipari holds true to, "if you fight, you play."
Time to regroup. Get in football mode for the next 24 hours and then we will do it all over again.