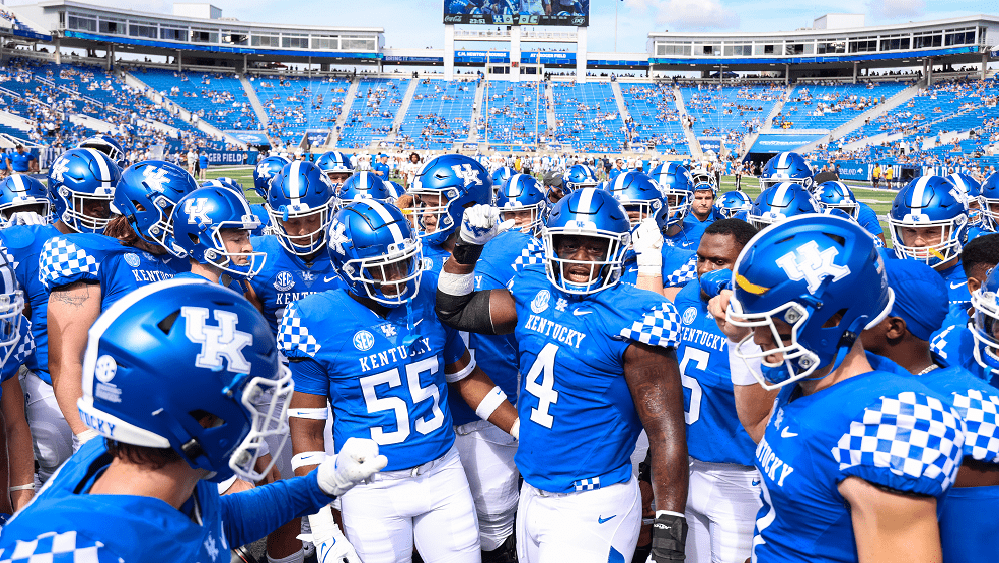 Josh Paschal (4) has been a team leader on and off the field at Kentucky and has earned a special place in coach Mark Stoops' heart. (UK Athletics Photo)
If there has been a more inspirational player on the Kentucky football team than Josh Paschal, I don't remember him. He's been a team leader and role model. He's been a great player on the field and a tireless worker. He overcame skin cancer to continue his career.
The senior defensive lineman got baptized after arriving at UK and coach Mark Stoops attended even after riding all night on a bus back from Washington, D.C., where he chaperoned his son's school trip.
Now Paschal will be playing his final game at Kroger Field Saturday afternoon.
"You cannot say enough good things about Josh. I've bragged on him and he deserves it," Stoops said during his weekly press conference Monday. "He truly is one of the most special players I have ever been around.
"I have coached a long time and some really good football players and some amazing individuals. He is, if not number one, it is hard to beat him, as far as a person."
Why? What makes him so special to Stoops?
"The way he empties his tank, the way he goes about his business, the way he impacts players, he leads, he is so selfless, he has overcome so much. Plays and empties his tank every day, one of the most special players if not the most, I've ever coached," Stoops said.
Big Blue Nation can say amen. Paschal is that special. He's never been overly outgoing but his actions always spoke volumes and he developed into a team leader.
 
"If you remember back in the day, even when we recruited him, it was very matter-of-fact. There's no bells and whistles with him, he's not worried about anything, he just simply (said), 'Yeah, that's it, I'm coming.' Like, really? 'No, coming.'  'Okay,'" Stoops said.
"Everything he says he means, he does, there is no BS. When he says, 'That's it, Coach, I've decided I'm coming to Kentucky,' that's it."
Compare that to how other players make recruiting announcements or continue to make visits even after they have committed. Not Paschal.
"He has been here and he's been all-in every day since. That is how he lives his life. He is remarkable, he is very mature, he is very strong and he has a great impact on people," Stoops said.
"One of the most sturdy, I guess you could say sturdier, or strong young men I have ever been around. Strong in his faith, strong in his work ethic, strong in everything that he does."
Again, say amen. I might add he's also one of the most popular players with media members because of his honesty win or lose.
What about his NFL prospects? He's not the biggest defensive lineman — remember he made the move from linebacker to the defensive line to help the team. He would not be the fastest linebacker in the NFL or SEC.
"He'll play in the NFL, there is no doubt. He is definitely a tweener, and that could be a good thing, but he is versatile," Stoops said. "He'll get a lot of looks and I think a lot of people will really study him to see where he'll fit in their system. If you're a 3-4 team like we are, he could still go outside because he's so sturdy, stout, and on first and second down could be 'Sam' or 'Jack' (linebacker) in that league and he's hard to move, but he's also versatile enough to go inside in predictable pass (situations)."
Stoops says Paschal's versatility will make him invaluable in the NFL just like has been at Kentucky.
"He's versatile enough and getting a lot of good looks, so a player like that, no matter what you are, you want him on your football team," Stoops said.