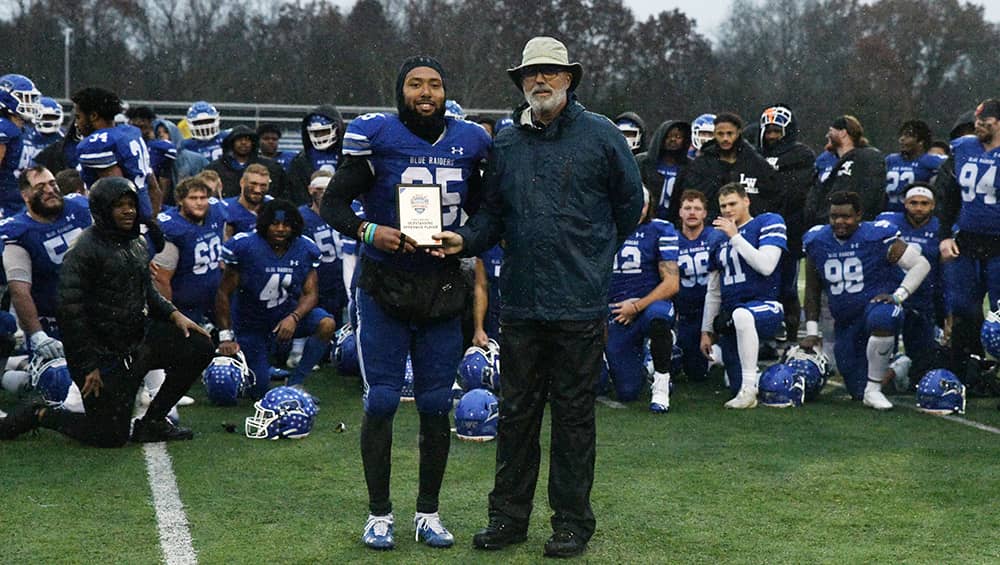 (Lindsey Wilson Athletics photo)
Jaylen Boyd ran for 143 yards and two touchdowns, and was named the Offensive Player of the Game as Lindsey Wilson College won its NAIA playoff opener on Sunday.
The former Caldwell County standout also returned three kickoffs for 61 yards as the defending national champion Blue Raiders rolled past Montana Western 48-21 in first-round action.
Lindsey Wilson is 11-0 this season and has won 22 straight football games.
As the top seed for this year's NAIA Football Championship Series, Lindsey Wilson will play at home through the national semifinals. The 2021 championship game is set for Dec. 18 in Durham, N.C.
The Blue Raiders will host No. 12 seed Keiser (Fla.) next Saturday at 12:30. The Seahawks (9-2) upset No. 6 Reinhardt (Ga.) 16-13 in the first round.
Boyd carried the ball 28 times on Sunday as Lindsey Wilson piled up 296 yards on ground and 539 total yards against the Bulldogs (8-4).
Boyd scored on a 17-yard run around the left side with 4:21 left in the first quarter. That helped put Lindsey Wilson up 14-3.
He scored again on a 4-yard run on the first play of the fourth quarter to help extend the margin to 41-15.
With the big game against Montana Western, Boyd has topped 1,000 yards rushing in a season for the second time at Lindsey Wilson. He now has 1,056 yards this year. He ran for 1,119 yards as a sophomore in 2019.
Boyd's career rushing record at Lindsey Wilson now stands at 3,497 yards. He has a school-record 38 rushing touchdowns.
Sunday was the 14th time Boyd has rushed for over 100 yards in a game for the Blue Raiders — another program best.