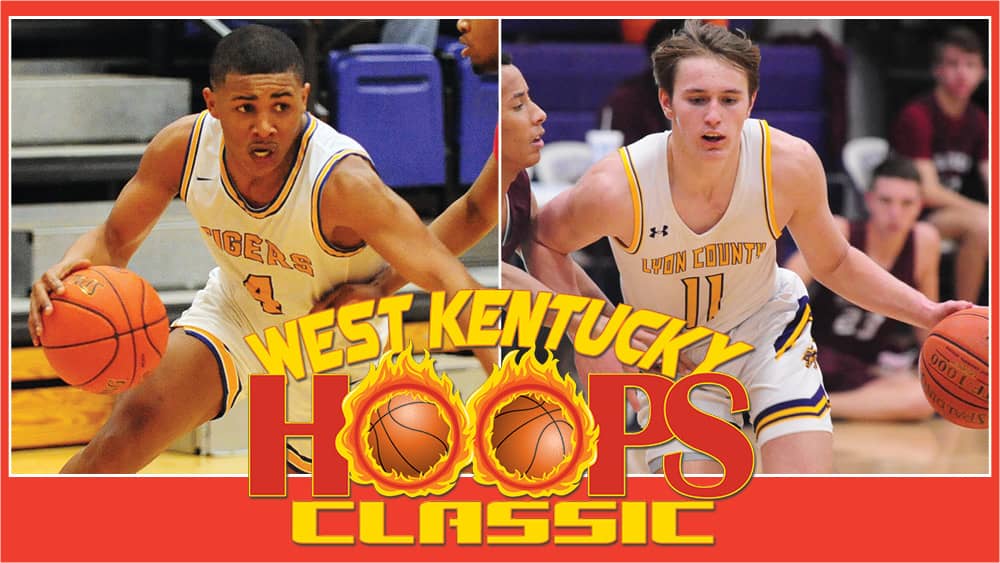 Matchups have been finalized for the 2021 West Kentucky Hoops Classic, which will be played Dec. 27-28 at Caldwell County's CAB gym.
Five states will be represented in this year's Hoops Classic. But a local clash is one of the highlights of this year's event.
The Caldwell County and Lyon County guys will square off in the next-to-last game of the event. That figure to pair two of the top scorers in western Kentucky in Lyon sophomore Travis Perry and Caldwell senior Jabrion Spikes.
Besides Kentucky, teams from Mississippi, Tennessee, Alabama and Missouri will play in this year's West Kentucky Hoops Classic.
Organizer Torey Hammett said the event is a fundraiser for Caldwell County High School athletics, and that some sponsors are still being sought…
Biggersville, from Corinth, will represent Mississippi. Biggersville won that state's Class 1A championship last year on a buzzer beater. The Lions went 24-4 in the 2020-21 season.
Two Tennessee teams will take part. Webb School from Bell Buckle, just south of Murfreesboro, will make a return trip to the West Kentucky Hoops Classic. The Feet, who visited Princeton in 2018, went 20-9 last season. Meanwhile, Class 3A Arlington, from near Memphis, will play in the Hoops Classic for the first time, although several teams from the Memphis area have played in the event previously. The Arlington Tigers were 19-6 last season.
The Huffman Vikings from near Birmingham and the Robert E. Lee Generals from Montgomery will represent Alabama. Both are Class 6A schools. Huffman posted a 22-5 record last season. Lee went just 6-8 last year, but was 33-1 and won the Class 7A state championship two years ago.
The Class 4A Clyde C. Miller Career Academy from St. Louis will represent Missouri. The Phoenix went 8-6 last season.
Three Kentucky teams are in the field. In addition to host Caldwell County, Lyon County and Murray High will take part. Murray was scheduled to be in last year's event, which was canceled because of COVID-19.
Lyon went 22-4 a year ago while Murray was 17-8 and Caldwell 8-16.

For the girls, Kentucky schools Caldwell County, Lyon County, Henderson County, Hickman County and Daviess County will be joined by Biggersville, Miss.
Henderson is the defending 2nd Region champion and a state semifinalist from a year ago. The Lady Colonels, who fell to Marshall County in the state semifinals, finished the year with a record of 20-5.
Lyon was 17-8 a year ago while Caldwell went 8-12. Hickman was 16-6 and Daviess 8-12.
The Biggersville girls went 18-9 last year. Cliff Little is head coach of both the boys' and girls' teams at the school.
One of the more unique aspects of the event is a team breakfast before the games on the second day. This year's guest speaker will be University of Kentucky men's basketball team chaplain Max Appel…
The West Kentucky Hoops Classic will feature 14 games over two days.