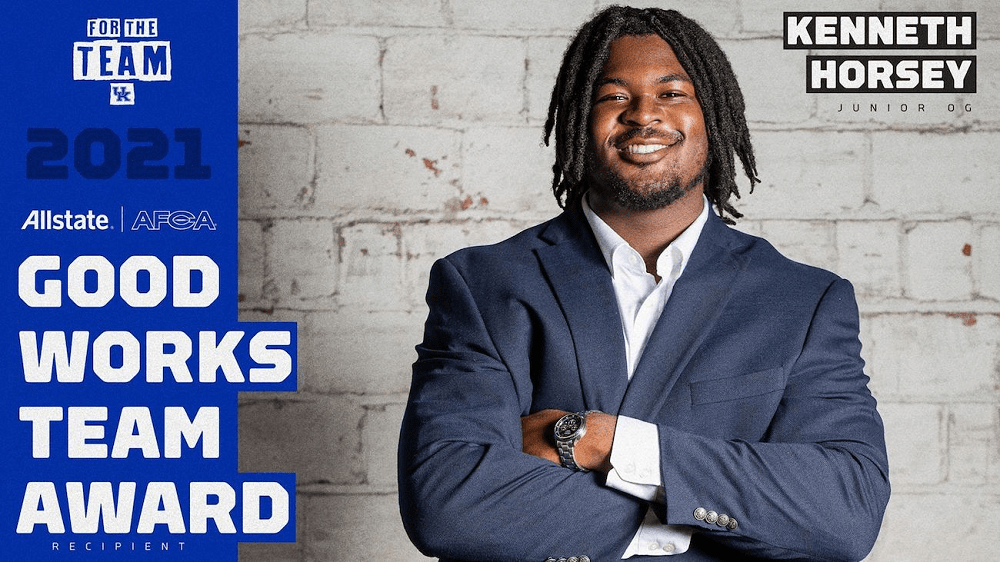 Kenneth Horsey (UK Athletics Photo)
Kentucky junior offensive lineman Kenneth Horsey is a compassionate person. That's why he has been nominated for the Allstate American Football Coaches Association Good Works Team and has done a variety of community service work, especially with the American Heart Association.
Yet he has no sympathy for Louisville, the team Kentucky plays Saturday night to end its regular season.
"Growing up in Florida I didn't pay too much mind to Kentucky football but when I got up here I saw this rivalry is huge," Horsey said on WLAP Sunday Morning Sports Talk. "It didn't take long to see that.
"I remember my first year and there was almost a fight before the game even started. So this is definitely a big week. The whole team takes it very seriously."
Horsey, who had heart surgery late in his senior year of high school, said it is a "good" rivalry with Louisville but it has definitely rubbed off on him.
"My girlfriend wanted to wear something red and I wasn't down with it because it was Louisville red," the UK offensive lineman said. "I make an exception (about wearing red) for the American Heart Association but that's it."
Horsey said the Cats were "hungry, passionate" for the game.
"We still have fight left in us," Horsey said. "Coach (Mark) Stoops has stressed to us we still have a chance to do something that has not been done in a while. I see in the media that we have not had the season some people wanted or expected but we still can have a very special year and we still have a sense of pride in that.
"We are 8-3 and working toward 9-3 and toward a beautiful bowl game."