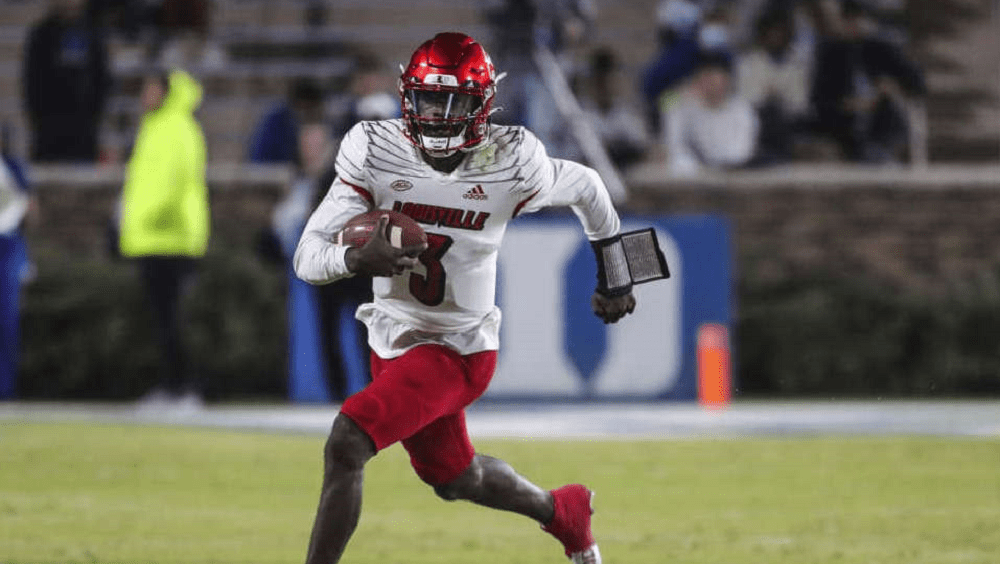 Malik Cunningham is a dual-threat quarterback who will challenge UK's defense. (Louisville Athletics Photo)
Louisville quarterback Malik Cunningham is going to be a "big challenge" for the Kentucky defense Saturday night. Cunningham accounted for over 500 yards passing and running in last week's win over Duke and has been superb in recent games.
"He is a dynamic playmaker and a guy that can hurt you with his legs and with his arm and you can see his comfort level," Stoops said. "He's getting more and more comfortable with every game, with every opportunity, and that experience is paying off for him.
"He's really playing exceptionally well and making people around him better. They're better in all areas than the last time we played them (in 2019)."
Stoops has heard criticism about UK not being able to stop a dual-threat quarterback.
"I used to get the question all the time, 'We've had a hard time …' , everyone has a hard time with running quarterbacks, it's not a Kentucky thing, it's a defensive thing and it's a pain in the butt," Stoops said.
"Guys that can extend plays, especially when they're so electric like Malik … he is extremely fast and elusive when he gets free."
Stoops warns that Louisville also has a "good stable of running backs" and talented wide receivers.
"Really productive and you can tell they have some juice, they can run. They definitely have some weapons around him (Cunningham). He does such a good job of designed runs or running reads, read plays, zone reads, and such," Stoops said. "And then, buying time to throw the ball down the field, and of course, scrambling for yards.  You put the three of those things together on him and you've got your hands full."
Louisville's defense will give UK quarterback Will Levis a lot to confuse him.
"Louisville plays extremely hard. They're going to come after you. They mix it up. They're a lot like us. They'll play zone (coverage), they'll play man. They bring a variety of different pressures, and they'll try to mix it up on him," Stoops said.
"With Will and with Malik, that's a feel thing. They're both very good at what they do and a lot of that is God-given ability to feel the pressure or where to escape to and where to buy the time and when to buy the time to look down the field and create for receivers and when to pull it down and scramble for yards.
"They're both going to do their thing. Both are very good players and both are very tough to stop at times with the way they can ad-lib and create."