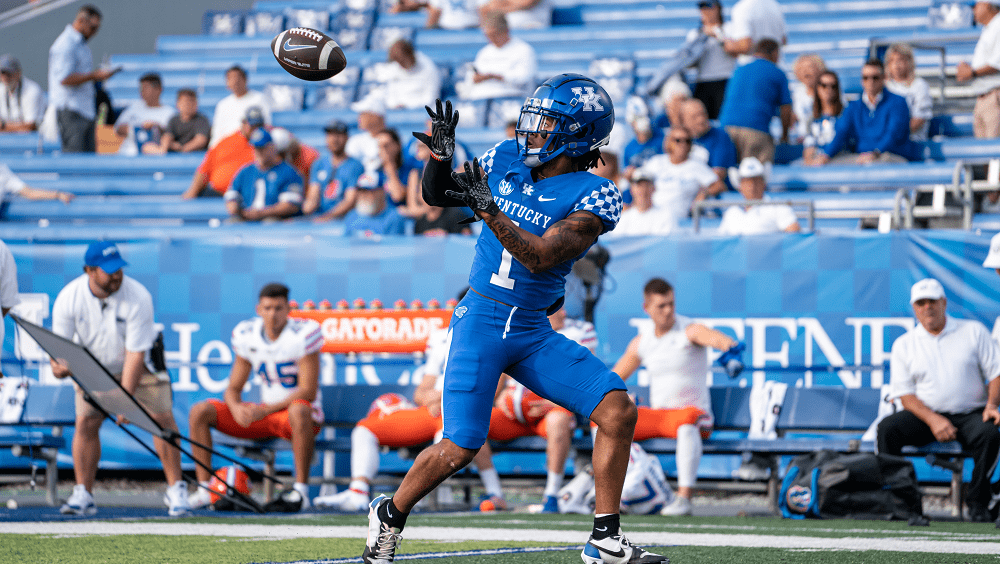 Wan'Dale Robinson worries Louisville coach Scott Sattefield. (UK Athletics Photo)
Louisville coach Scott Satterfield understands if his Cardinals are going to slow down Kentucky quarterback Will Levis and the UK offense it means containing receiver Wan'Dale Robinson.
"Number one, you better know where that receiver (Robinson) is at. He's a dynamic player, he's very fast, he's one of the most explosive guys in the country this year, so you have to understand where he's at because he will beat you," Satterfield said.
Robinson also made it clear this week he has not forgotten that Louisville did not recruit him when he played at Western Hills High School.
Levis has become UK's clear leader and has shown the ability to make plays passing and running.
"I think the big thing with Levis is if he's comfortable in the pocket, then he can carve you up. He's got a big-time arm and he's a very talented player," Satterfield said.
"You have to make him uncomfortable, and that's with most quarterbacks, you have to get him off the spot, try to get him to throw it either earlier than he wants to or he's out of the pocket and now he has to try to make something that way. I think that's the way you try to rattle him a little bit but he's a good player."
Satterfield is not overlooking UK's running game.
"They have a good offensive line and they couple that with a really good running game with (Chris) Rodriguez. He's a powerful back with great size and he runs hard," Satterfield said. "We didn't do a great job at all in 2019 (in a loss to UK) of tackling. Avery, very poor tackling performance by us.
"We need to bring our feet, we need to do a much better job of wrapping up and getting them down because if you don't, then they're going to get those first downs and give Levis and the rest of the offense another opportunity to try to score."