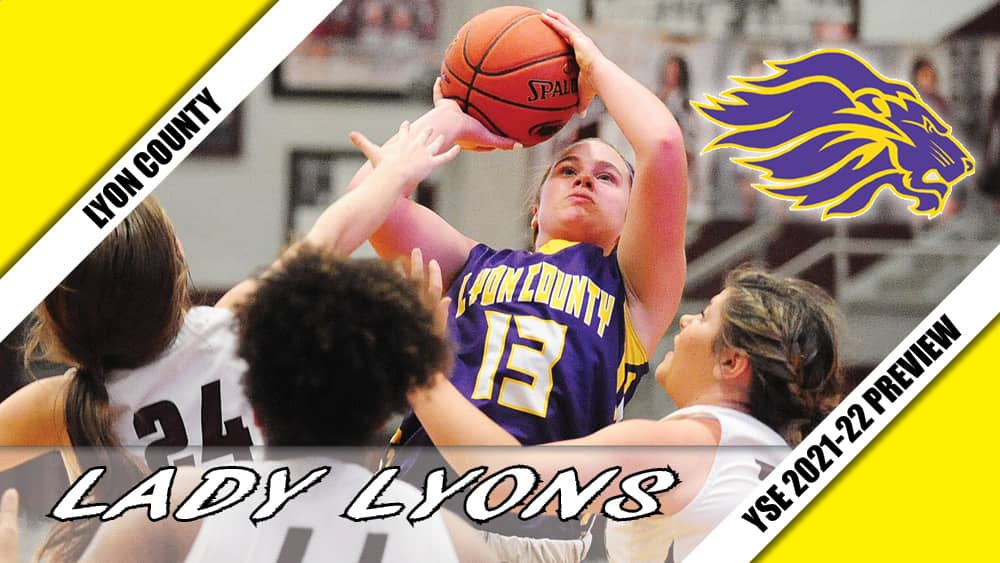 Jeff Doom may have left the Lady Lyon basketball program, but he didn't leave the cupboard bare.
Assistant coach Dawn Cotham takes over as Lyon County head coach this season, and should be able to pick up right where Doom left off.
Thanks to Calista Collins returning as a super senior, Lyon has its top five scorers and rebounders back from last season and has a group that has played together for several years.
Collins, who has already signed to play college softball at Big Ten school Rutgers University in New Jersey, reached one milestone on the hardwood last season and is poised to hit another this year.
She recorded her 1,000th rebound late in the 2020-21 campaign. Collins enters 2021-22 with 929 points as she looks to top 1,000 career points.
Collins, a 5-foot-7 forward, averaged a double-double last season, getting 16.7 points and a state-leading 13.7 rebounds a night as the Lyon basketball team went 17-8, but lost in the semifinal round of the 5th District tournament.
Collins joins another multi-sport senior, Rose Smith, to provide a formidable one-two punch for this year's Lady Lyons.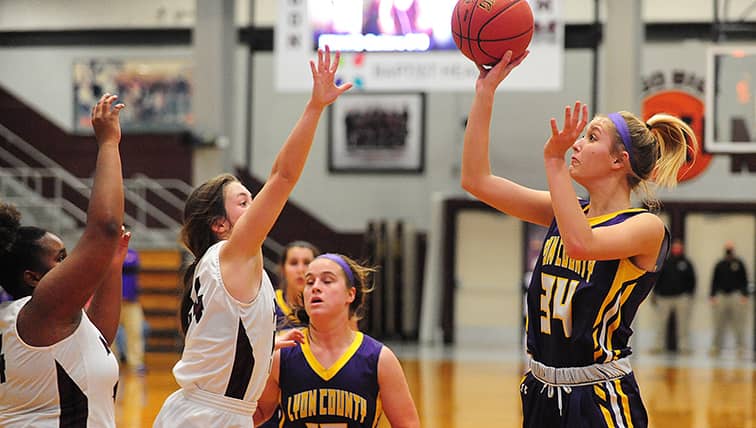 Smith, Lyon County's all-time leading goal scorer in soccer, tallied 14.8 points a game and 5.8 boards a contest last season.
Smith, a 5-10 forward, is the tallest Lady Lyon. She figures to join Collins in the Lady Lyon 1,000 Points Club this season, entering the year with 888 career points.
Gracen Wynn, a 5-8 sophomore forward, provides another scoring threat. She was third on the team in points last season with 7.7 a night while also grabbing 5.5 rebounds.
Ella Defew, a 5-7 junior forward, netted 6.9 points and 4.2 rebounds.
Senior 5-8 guard Hadlie Butler averaged 5.2 points and 4.1 rebounds a contest.
Another player with extensive varsity experience from last year is freshman guard Lilly Perry, who scored 3.0 points and grabbed 3.3 rebounds off the bench.
If the Perry name sounds familiar, her older brother is Lyon boys' leading scorer Travis Perry and her dad is Lyons head coach Ryan Perry.
The Lady Lyons will be looking for some youngsters to step up to build some depth on the bench.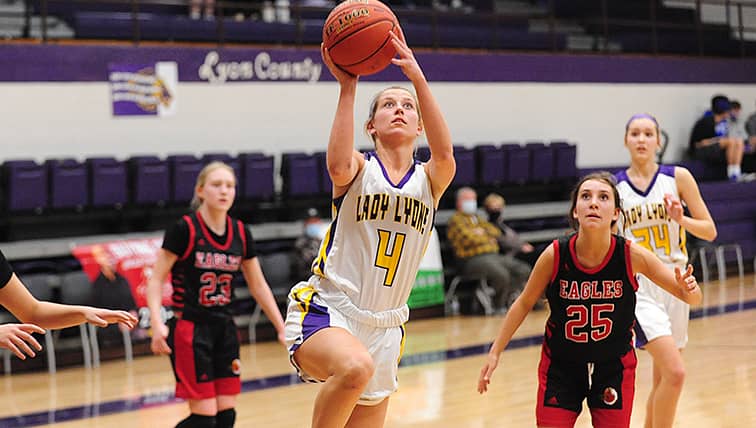 Lyon's girls and Crittenden County appear to be the top two contenders in the 5th District this season and the regional All A Classic as well.
With its returning experience, Lyon could be a darkhorse in the 2nd Region tournament at the end of the season. Henderson County and Madisonville-North Hopkins appear to be the top two teams in the region heading into the new campaign.
Cotham is a former Lady Lyon player who had been an assistant coach under Doom for several seasons.
Doom was 191-152 in 12 seasons as Lady Lyon basketball coach. He won three district championships and a pair of All A region titles before stepping down after the 2020-21 season.
The Lady Lyons will open the 2021-22 season at Hopkins County Central on Tuesday in the first game of a girls and boys doubleheader.