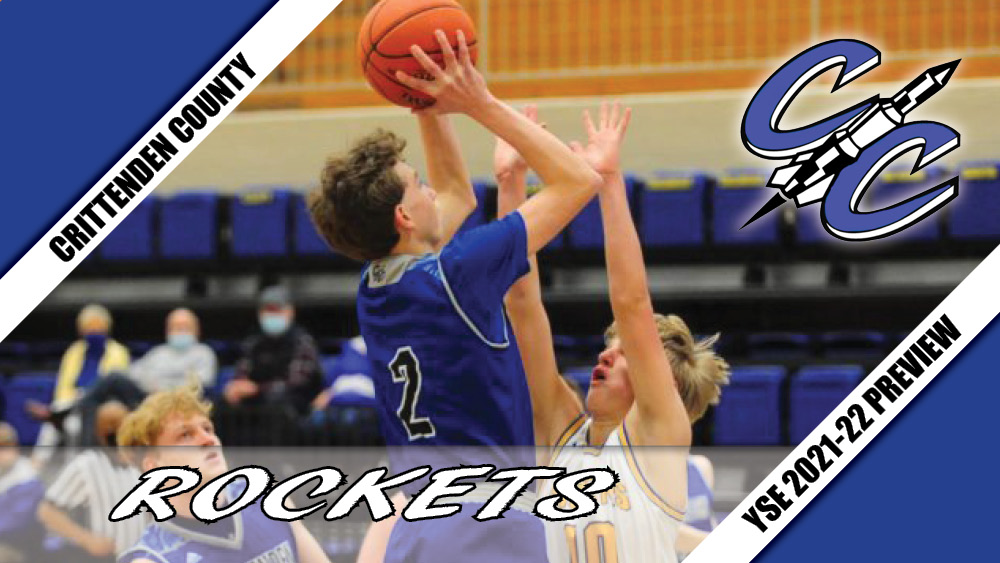 Most basketball coaches would bemoan the loss of three of their top four scorers from the previous season. However, Crittenden County coach Denis Hodge is using the opportunity to forge a new personality and philosophy for the upcoming basketball season.
"Our team will look a lot different, but we've got Preston Morgeson back as a starter, and Travis Champion returns. Plus, we've got a host of kids around them who have stepped up," Hodge said.
The quick Morgeson averaged 11.7 points and led the Rockets in steals last year. Champion, a sophomore, scored five points a game and turned into a solid contributor down the stretch for the Rockets.
Hodge said last year's team played a lot of zone in order to keep key personnel on the floor and out of foul trouble. He said that won't be the case this year.
"We're going to be more exciting to watch and will play faster because we're going to run more guys at you," he said.
Hodge said freshman Chase Conyer, senior Luke Crider, senior Trace Derrington, and senior Holden Cooksey will all play major roles in the success of the Rockets as will senior Dylan Yates.
"Dylan says he is 6-foot-1, but we'll probably list him at 5-10. I still wouldn't want to fight him. He's 235 pounds and is a 400-plus squatter," Hodge said.
Another key addition for the Rockets comes in assistant coach Jeff Embrey, who coached in the district at Lyon County and Trigg County. He was also an assistant coach at Christian County two seasons ago.
"We brought him on as an offensive coach," Hodge said. "We'll shoot the ball more freely and get after people on defense and feel like this is a group that can play that type of system."
Crittenden County lost to Lyon County in the district championship and dropped a one-point decision to eventual champion University Heights Academy in the first round of the region tournament. While the Lyons are the favorite to repeat in the district, Hodge is hopeful a full season of games and practices will have them ready to get back to the region tourney.
Crittenden County opens the season Tuesday against Union County.