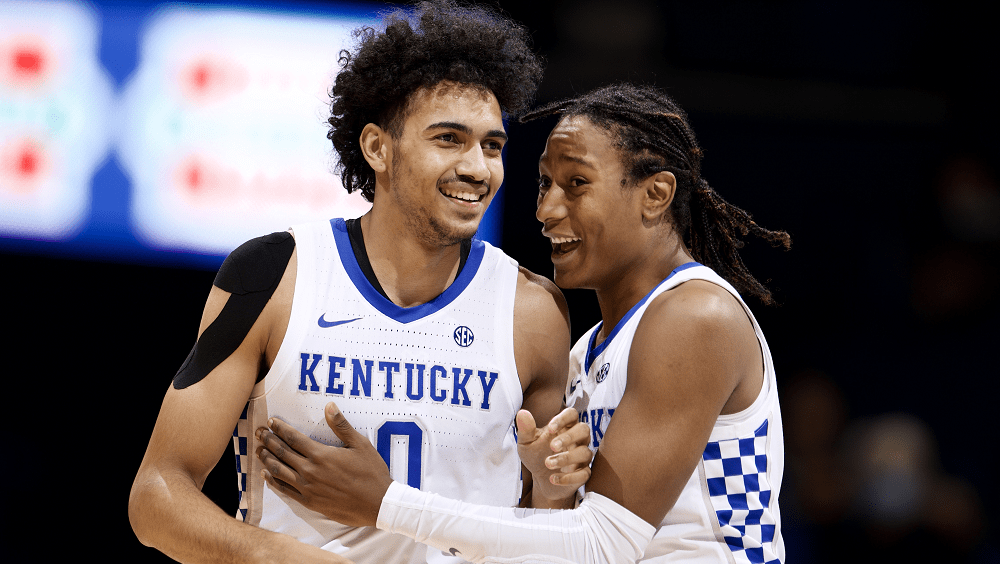 Jacob Toppin, left, and TyTy Washington had a good time Monday during the win over Central Michigan. (UK Athletics Photo)
If you listened to the pregame radio show the possibility that Kentucky was going to be down to seven players against Central Michigan Monday night because of illness and injury. However, at tip-off time Davion Mintz and C.J. Frederick were the only two players missing.
The game was a return to a familiar place and faces for Central Michigan coach Tony Barbee. A game where the crowd was slow to arrive, the Cats came out of the gate fast.  The Cats put 25 points on the scoreboard in the first eight minutes of the game. It was a flashback to the UCLA came of the past as the Cats led 43-12 in the first half.
The second half was as ugly as the first half was exciting. Kentucky struggled keeping focus on putting the pedal down and finishing the first half beat down of the Chippewas before winning 85-57 and outscoring the visitors just 34-32 the second half. The Cats shot 43.1 percent from the field and 26.9 percent from 3-point range for the game.
Calipari stressed the important role Dontaie Allen can provide the team. 
"Dontaie can be a game-changer for us to go into a game and give great confidence because he did something defensively, he blocked it and all of a sudden, he gets a shot and bang. Then he gets another shot and bang. All of a sudden, the game changes. So, there is a spot for him," Calipari said.
The Cats do not take the court again until Dec. 7 when Sean Woods brings his Southern team to Rupp Arena. The break will be welcomed at a time when the Cats need some healing time both from injuries and illness.
Calipari stressed he'll adjust the practice schedule to give the guys time to get well for the next stretch of games which include an away trip to Notre Dame, a meeting in Las Vegas with Ohio State, and a battle with Louisville at Rupp Arena on Dec. 22.
So here we are at the beginning of December and just three wins away from matching the total wins from last season. Sure these games have not been top-notch opponents but ask yourself if UK could have beat all these teams last year? 
Kick back BBN, watch Twitter for Coach Stoops' news, and get ready. The fun is getting ready to begin and oh yeah …Shaedon Sharpe will be here soon!