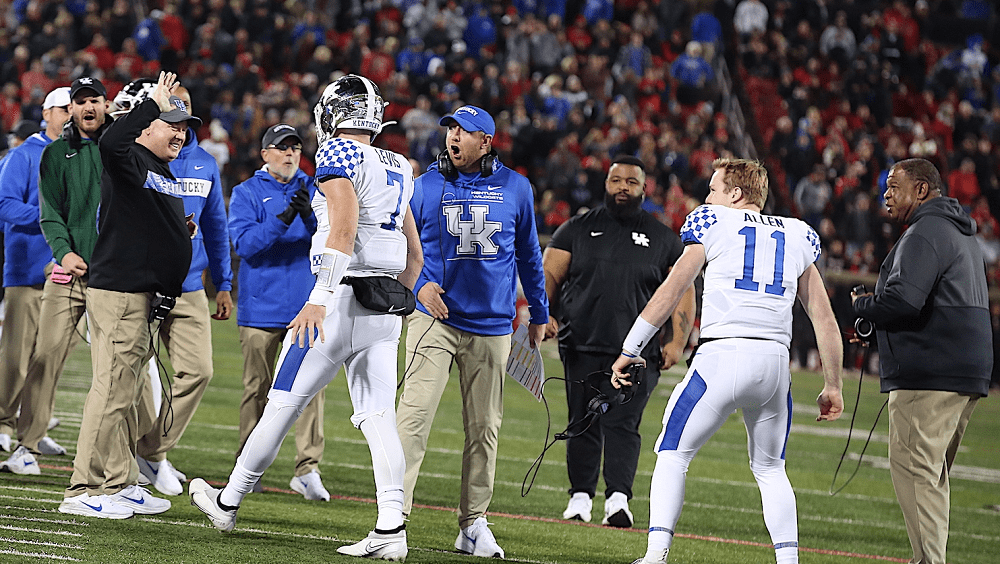 Mark Stoops, left, enjoyed Saturday's win over Louisville but indicated he would be on the road recruiting this week -- not looking for another job. (Vicky Graff Photo)
So here's my take on the whole "Mark Stoops to (fill in the school name) to be the next head coach" media frenzy that is going on right now.
First, Stoops has never indicated he is unhappy at UK and willing to look at offers from other schools. Now, all that could change tomorrow if UK Athletics Director Mitch Barnhart can't come up with some additional money for the recruiting budget, extra salary money for the assistant coaches, and an indoor practice facility that doesn't have a running track around it.
The smart money says Barnhart already had a plan in place to have those things available anyway knowing that the coaching carousel would be heating up at the end of the season. After all, Barnhart is not usually a guy that is asleep at the wheel on anything. That's why UK currently has a Hall of Fame Basketball coach, Olympic gold medal-winning alumni in several sports and a four-time SEC championship and National Championship Volleyball team to go along with all the other upgraded UK sports programs that are too numerous to mention here. But suffice it to say Barnhart seems to be on top of everything.
Second, if Stoops were to leave and go to another school after what he has built at UK he would leave all his work here unfinished. He would not have played in an SEC Championship game or competed in the College Football Playoffs. Those were his stated goals when Barnhart took a chance on a blue-collar guy from Youngstown, Ohio, that had no previous head coaching experience.
Stoops, at the time of his hiring, believed he could do that and has since reiterated those stated goals. Vince Marrow, Associate Head Coach, and Stoops' main sidekick, as recently as this season has also restated those same goals saying that everyone laughed at them at the time for making that claim.
Stoops and Marrow are not coaches to be laughed at or disrespected. Just ask the Las Vegas oddsmakers or anyone on the UofL football staff or team. Stoops says what he will do and then does what he says. Loyalty seems to be important to Stoops and his staff which is demonstrated by his willingness to stay at Kentucky for nine years — even after he had received overtures from other schools in the past — after Mitch Barnhart went way out on a limb by keeping Stoops after his first 2-10 season and then two 5-7 losing seasons after that. Had that happened at any other "name" school Stoops and his staff would have been seeking other employment. It seems that Stoops remembers that loyalty and returns it.
He said on Kentucky Sports Radio after the 52-21 win over Louisville when asked about whether he would be back as UK's Head Coach, "Absolutely, I mean, I don't appreciate you putting me on the spot like that. I come on your show and give you my time. Really appreciate you and the way you get the fans fired up — but I love the Big Blue Nation. Yes, I absolutely plan on being here."
Stoops has never been deceptive in the past, to fans or the media with his comments, and it doesn't seem likely that he has changed.
Finally, Mark Stoops realizes that the SEC is where the best football in the country is played. Fans also recognize that, as does the media. Stoops has said before that playing in the SEC is a physical and mental grind but is also a good measuring stick to see where a program is, what it needs to do to compete for championships and what he needs to do to get there and he realizes there is still a lot of work to be done.
He said after the win over the Cardinals, "Let's put it this way, I'm going to work tomorrow. I'm on my way home, my butt's gonna get in bed, I'm going to be at my office tomorrow, and I'm going to hit the pavement this week to go get us some players. We're going to hit the pavement. I had visits scheduled tomorrow but may alter that a bit because of the (KHSAA) playoffs, some things that happened there. But I'm in three different states Monday, two states on Tuesday, three states on Wednesday. I'm going to be hitting the pavement. We've got to get some impact players, finish up this class, hold the guys we have, balance it with what happens in the portal."
That doesn't sound like a man that plans on being somewhere else in a couple of days. It sounds like a man that has unfinished business and is driven to prove that a blue-collar coach from a working-class family in Youngstown, Ohio, can take a down-trodden, bottom-feeding football program that always seemed to have a lot of heart and fan support but no success on the field all the way to the top. So far he is only part of the way up the mountain but he can see glimpses of the peak and since he's never been a quitter it would be hard to see him quit now with the end in sight.
I could be wrong and Stoops could leave for another football program before this article is even posted but if he does it would be so unlike Stoops that one would have to say "a Stoops family member didn't finish what he started?" and I'm not sure that's ever happened before.