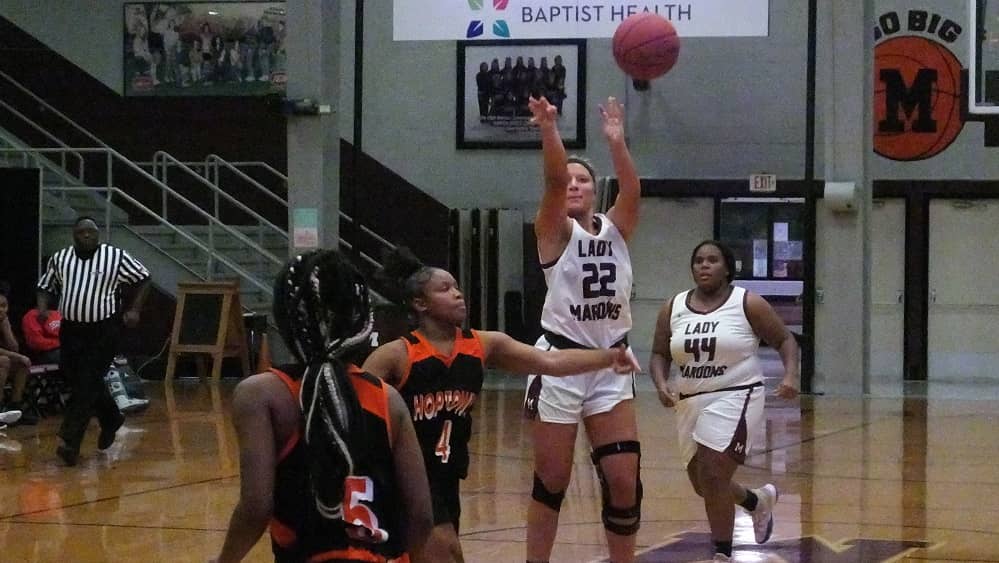 With Hopkinsville employing a zone defense and Madisonville-North Hopkins misfiring from behind the arc on Thursday night, the Lady Tigers doubled-up the Lady Maroons after the 1st quarter.
However, the Lady Maroons found the range in the 2nd quarter and poured it on in the 4th to pull away for a 63-40 victory over the Lady Tigers.
Donisha Flowers helped fuel a 9-2 run to close the 1st quarter and give the Lady Tigers a 13-6 advantage, but the Lady Maroons bounced back in the 2nd to take control.
Riley Sword's 3-pointer pulled Madisonville even at 16-16 with 4:40 left in the half, but the Lady Maroons weren't done there.  They outscored the Lady Tigers 22-5 in the 2nd quarter, with Camryn LaGrange and Emilee Hallum combining for 10 points to lead the Lady Maroons to a 28-18 halftime advantage.
Shaterrea Bellamy scored eight of her 16 points in the 3rd quarter, twice pulling the Lady Tigers to within five with a basket in the paint.  After Sword's jumper from the wing in the final seconds, the Lady Maroons took a nine-point edge to the 4th quarter.
Hoptown's Shiyah Forte hit one of two free throws for the first points of the 4th, but Madisonville responded with a 13-0 surge to put the game away.  Destiny Whitsell scored 13 of her game-high 21 over the last eight minutes, with Amari Lovan adding 10.
Sword and LaGrange each finished with 11 points to join Whitsell and Lovan in double figures.
Bellamy's 16 paced the Lady Tigers, followed by Forte with 11.
Madisonville          6    22    10    25 — 63
Hopkinsville         13    5      11     11 — 40
Madisonville (2-0) — Whitsell 21, LaGrange 11, Sword 11, Lovan 10, Hallum 7, Barber 3
Hopkinsville (1-1) — Bellamy 16, Forte 11, Flowers 9, Wilson 4