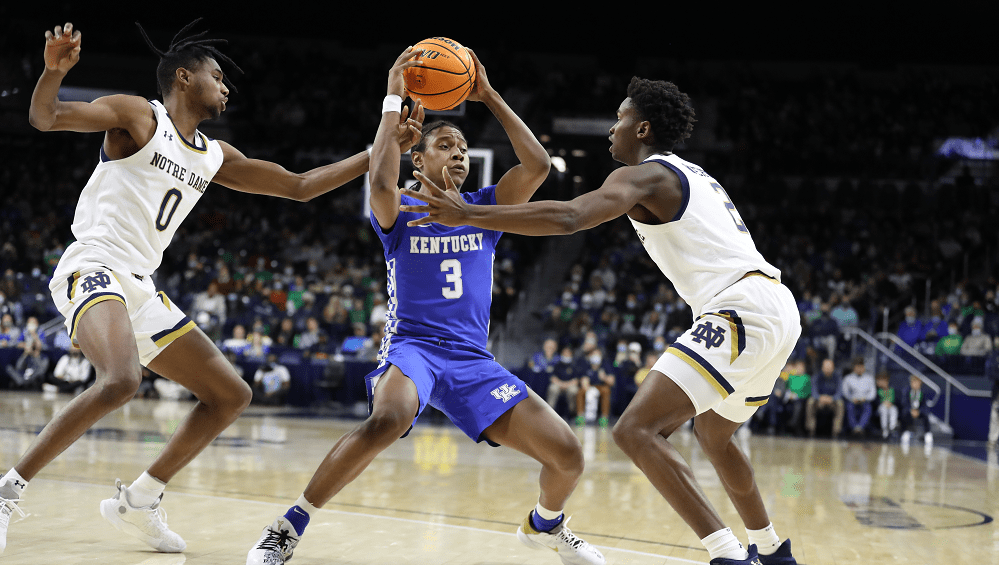 Freshman TyTy Washington didn't score in the second half at Notre Dame and missed a shot in the final 10 seconds that could have tied the game. (UK Athletics Photo)
It was not that hard for ESPN college basketball analyst Jay Bilas to explain why Notre Dame beat visiting Kentucky 66-62 Saturday.
"Notre Dame has the lead because of smart basketball cuts they have made," Bilas said during the game before he knew the Irish would finish with 38 points in the paint.
Once the game finished, Bilas added this: "The work Notre Dame did on the glass was ultimately the reason Notre Dame won this game."
The Irish did outbound UK 33-28 and Oscar Tshiebwe, the nation's leading rebounder at 15.4 per game going into this game, had just seven — and only one came in the second half.
That's how a team with three wins coming into the game beat UK — along with UK going 2-for-19 from 3-point range. The Irish's three other wins had been against teams with these KenPom Rankings: Cal State Northridge 294, High Point 264, and Chaminade, not even rated. That's why this was a BAD loss for Kentucky.
Kentucky coach John Calipari watched his team get in position to win thanks to a three-point play by Davion Mintz and a contested 3-pointer by Kellan Grady that gave the Cats a 62-61 lead with 1 minute, 50 seconds to play. But just like last year, Kentucky could not finish a game.
On the UK Radio Network after the game, Calipari said he preached "defensive discipline" to his team.
"If we guard, we win the game. If you don't guard and break down, we lose," he said he told his team with five minutes to play.
What happened? He said Keion Brooks, TyTy Washington and Sahvir Wheeler all got beat and then the Cats gave up a 3-point goal when they were not supposed to be switching on defense but did any way.
"That's nine points we gave them," the Kentucky coach said.
Calipari said even though UK missed 17 of 19 3-pointers — and he said they were "good shots" — that the Cats could still have won "fi they guarded" better the final five minutes.
"We didn't and you lose. It's a great lesson," Calipari said. "It stinks to lose. I would rather win a close game and say we got a lot of work on."
Notre Dame was 7-for-22 from 3-point range to go with 38 points in the paint. The Irish also went 7-for-8 at the foul line where UK was 10-for-15.
"You have to make a shot to win a game. How about this? Make free throws to win the game," Calipari said. "That is mental toughness that you are going to do that."
Calipari also chastised his players for playing not to lose versus playing to win late in the game.
"We were 6 and 100 last year (actually 9-16) and guess what they (Notre Dame fans) did? They stormed the court. It's Kentucky. You have to play to win, not lose," Calipari said.
But here comes the crusher if you are a Kentucky fan.
"We had a bunch of guys who froze," Calipari said.
Froze? How could that be?
Mintz, Grady, Wheeler, Brooks, and Oscar Tshiebwe have all played in big games. This atmosphere was only new to one Cat — Washington (and he missed the driving shot that would have tied the game 64-64).
Maybe Calipari froze by not making more adjustments or at least trying to make adjustments. Maybe Calipari froze by playing so many easy tune-up games in Rupp Arena that the players were not ready for a road game even against a team like Notre Dame that had been far from great so far this season.
Bottom line, plenty of blame to go around for this loss and plenty to make UK fans worry about the future even if it is just Dec. 11.