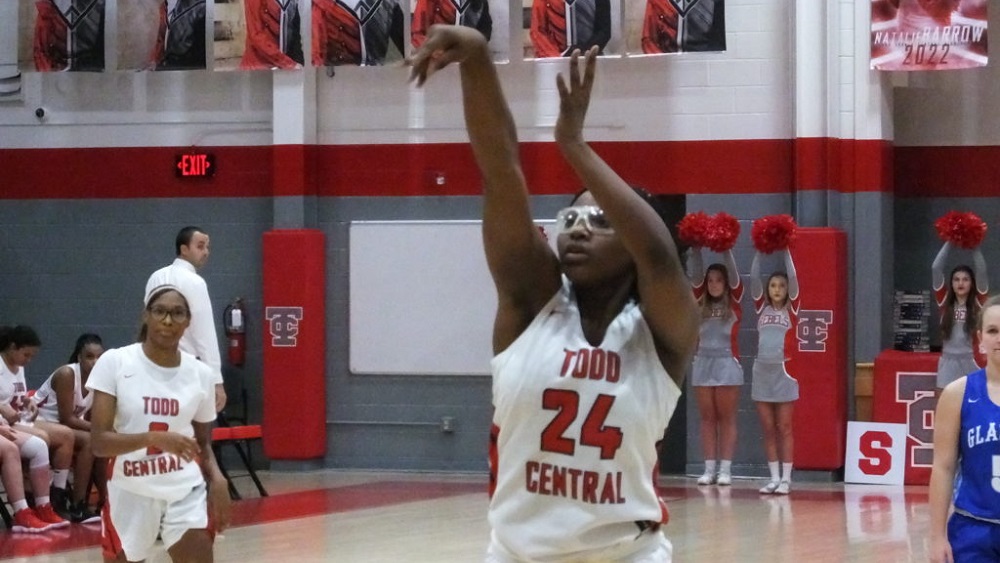 After being held to single digits in each of the first three quarters on Thursday night at Butler County, the Todd County Central girls basketball team finally found its scoring touch over the last eight minutes behind a big performance by freshman Alexis Taylor.  However, for the second straight outing, the Lady Rebels saw a late rally fall short in a 47-43 setback to the undefeated Lady Bears.
Todd Central drops its third straight game to slip to 1-4 and will return to the court on Friday for a visit from Edmonson County.
Both teams were cold to start the game, with the Lady Rebels leading 9-6 after a low-scoring 1st quarter.  Butler County surged in front in the 2nd, with Gracie Cardwell and Jaelyn Taylor combining for 10 points to lead 19-16 at the break.
Lucy Chester scored five of Todd Central's eight points in the 3rd, and the Lady Bears continued to build the lead on the strength of seven more points for Cardwell.
Trailing by 11 to start the final quarter, Taylor did her best to lead the Lady Rebels back.  She scored 14 to equal Butler County's output, but the Lady Bears' Taylor added seven and Taylin Clark chipped in six to help them hold on for the four-point victory.
Butler County          6    13    14    14 — 47
Todd Central           9     7      8     19 — 43
Butler County (4-0) — Cardwell 16, Taylor 16, Clark 10, Leach 3, Phelps 2
Todd Central (1-4) — Taylor 18, Chester 11, Williams 9, Kay 5