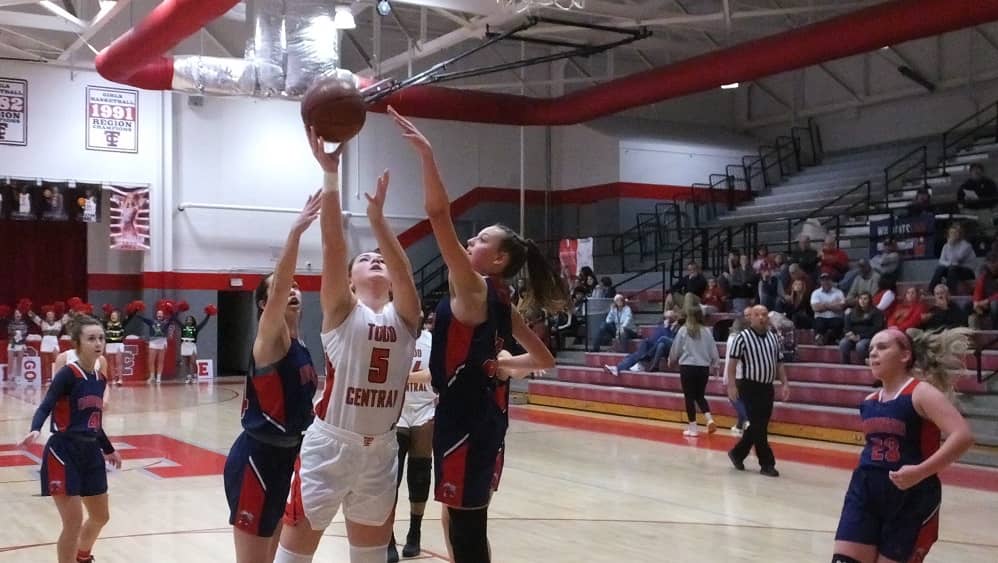 With losses in their last three outings, including the last two by a total of five points, the Todd County Central Lady Rebels got back to winning ways on Friday night with a 46-34 victory over visiting Edmonson County.
Todd Central improves to 2-4 overall and hands Edmonson County its second straight setback to leave the Lady Wildcats at 2-4 as well.
Leading 7-2, Jamaia Coleman connected on a 3-pointer to give the Lady Rebels a seven-point edge, before Edmonson's Paige Wolfe answered with a shot from behind the arc.  Todd Central scored the last five points of the 1st quarter, with Tamiya Foster knocking down a 3 and Lucy Chester scoring on a putback for a 15-7 score.
Abby Williams opened the 2nd quarter with a 3-pointer to give the Lady Rebels' their first double-digit lead, and it was 20-7 after Alexis Taylor scored on a putback.  A Williams runner with just over two minutes left in the half stretched the margin to 14 points, and the Lady Rebels went to the locker room leading 28-17.
Ciara Collins scored four points for the Lady Rebels in the 3rd, and her layup put them up 36-25.  Coleman connected on a jumper inside the final minute and Todd Central led by 12 with a quarter to play.
Two free throws by Edmonson's Hallie Cassady pulled the Lady Wildcats to within 10 at 38-28, but they wouldn't get any closer.  Taylor scored on consecutive possessions to put the Lady Rebels back up by 14 and Coleman's 3-point play with just under two minutes left put the game away.
The Lady Rebels will make their way to Ohio County on Monday to take part in the DQ Classic.  They open against Hopkins County Central, before matching up with the host Lady Eagles on the 21st, and finishing with Hancock County on the 22nd.
Todd County Central          15    13    10     8 — 46
Edmonson County               7     10     9      8 — 34
Todd County Central (2-4) — Taylor 12, Coleman 11, Chester 10, Williams , Collins 4, Foster 3
Edmonson County (2-4) — Vincent 9, Cassady 8, Williams 8, Dennison 3, Ballance 2