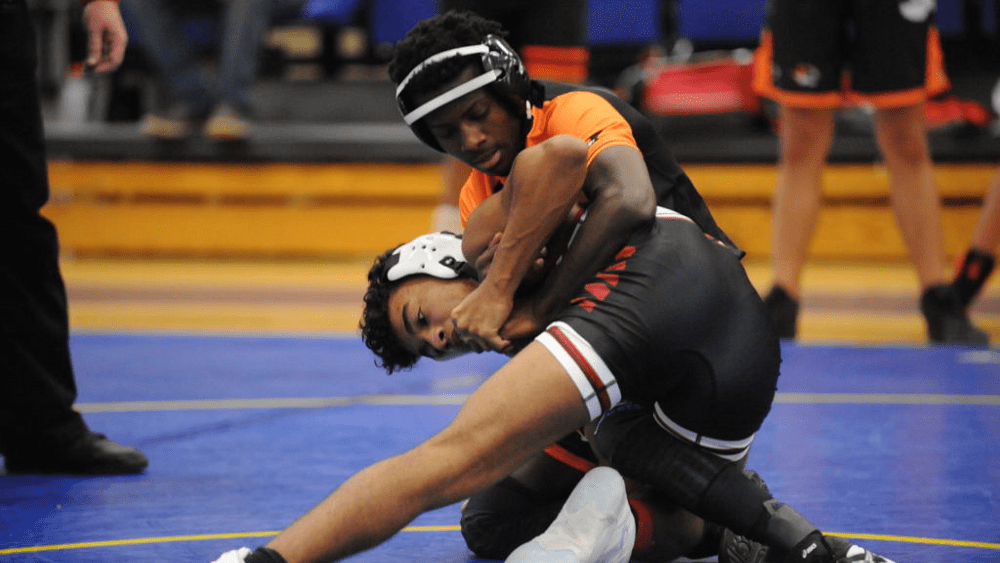 YSE File Photo
The Hopkinsville Tigers were among the teams competing Thursday at the Section 1 Big School Duals wrestling meet at McCracken County High School. The Tigers finished in sixth place for the day.
Apollo took 1st place. Host McCracken County ended up in 2nd place. Crosstown rival Christian County finished in third. Ohio County was the 4th place team, with Henderson County in fifrth.
Individually, Trushawn Matt had the best day for the Tigers. Matt would go 4-1 in the 113 pound weight class, losing only to JaRi Campbell, of Christian County.
Team results for Hopkinsville were:
Round 1
Christian County defeated Hopkinsville 70-12
Round 2
Ohio County defeated Hopkinsville 48-24
Round 3
McCracken County defeated Hopkinsville 66-18
Round 4
Apollo High School defeated Hopkinsville 60-24
Round 5
Hopkinsville defeated Henderson County 45-36
Individual results were:
106 Results
James Tucker of Hopkinsville went 2-3
106 – James Tucker (Hopkinsville) over Ariel Workman (McCracken County) Fall 3:10
106 – Jake Ramsey (Apollo High School) over James Tucker (Hopkinsville) Fall 0:25
106 – Ashton Smith (Christian County) over James Tucker (Hopkinsville) Fall 3:55
106 – James Tucker (Hopkinsville) over Unknown (Unattached) Forf
106 – Talynn Clark (Ohio County) over James Tucker (Hopkinsville) Fall 1:42
113 Results
Trushawn Matt of Hopkinsville went 4-1
113 – Trushawn Matt (Hopkinsville) over Camryn Freiburg (McCracken County) Fall 2:24
113 – Trushawn Matt (Hopkinsville) over Clayton Lawson (Apollo High School) Fall 0:42
113 – JaRi Campbell (Christian County) over Trushawn Matt (Hopkinsville) Fall 4:22
113 – Trushawn Matt (Hopkinsville) over Andrew Galbraith (Henderson County) Fall 0:47
113 – Trushawn Matt (Hopkinsville) over Mason Taylor (Ohio County) Fall 0:48
120 Results
Juan Cannon of Hopkinsville went 2-3
120 – landen Cox (Apollo High School) over Juan Cannon (Hopkinsville) Fall 2:38
120 – Tayvontay (Tay) Martinez (Christian County) over Juan Cannon (Hopkinsville) Fall 4:46
120 – Juan Cannon (Hopkinsville) over Charles House (Henderson County) Dec 19-13
120 – Juan Cannon (Hopkinsville) over Unknown (Unattached) Forf
120 – Logan Kissiar (McCracken County) over Juan Cannon (Hopkinsville) Fall 0:18
126 Results
Holden Schneider of Hopkinsville went 3-2
126 – Holden Schneider (Hopkinsville) over Silas Tatum (Christian County) Fall 1:16
126 – Holden Schneider (Hopkinsville) over Wyatt Holland (Henderson County) Fall 0:51
126 – Holden Schneider (Hopkinsville) over Unknown (Unattached) Forf
126 – Parker McKee (McCracken County) over Holden Schneider (Hopkinsville) Fall 1:19
126 – Alex Bowlds (Apollo High School) over Holden Schneider (Hopkinsville) Fall 2:40
138 Results
Jamaure Ennels of Hopkinsville went 2-3
138 – Jamaure Ennels (Hopkinsville) over Vinson Embry (Henderson County) Fall 1:42
138 – Caige Clark (Ohio County) over Jamaure Ennels (Hopkinsville) Fall 1:51
138 – James Barragan (McCracken County) over Jamaure Ennels (Hopkinsville) Fall 2:00
138 – Jamaure Ennels (Hopkinsville) over Unknown (Unattached) Forf
138 – Haydon Merrick (Christian County) over Jamaure Ennels (Hopkinsville) Fall 1:45
150 Results
Xavion Wallace of Hopkinsville went 2-3
150 – Andrew Barton (Christian County) over Xavion Wallace (Hopkinsville) Fall 1:28
150 – Xavion Wallace (Hopkinsville) over Unknown (Unattached) Forf
150 – Gunnar Arnold (Ohio County) over Xavion Wallace (Hopkinsville) Fall 2:47
150 – Brayden Howard (McCracken County) over Xavion Wallace (Hopkinsville) Fall 2:53
150 – Xavion Wallace (Hopkinsville) over Mason Shephard (Apollo High School) Fall 1:17
157 Results
Jaylin Littleton of Hopkinsville went 3-2
157 – Bryce McTaggart (McCracken County) over Jaylin Littleton (Hopkinsville) Fall 2:12
157 – Jaylin Littleton (Hopkinsville) over John Sheward (Apollo High School) Fall 1:17
157 – Jaylin Littleton (Hopkinsville) over Mikhi Boyd (Christian County) Fall 0:25
157 – Jaylin Littleton (Hopkinsville) over Unknown (Unattached) Forf
157 – Grayson Shelby (Ohio County) over Jaylin Littleton (Hopkinsville) Fall 3:10
190 Results
Dontre Quarles of Hopkinsville went 3-2
190 – Omarion Wimberly (Christian County) over Dontre Quarles (Hopkinsville) Maj 10-0
190 – Dontre Quarles (Hopkinsville) over Evan Henshaw (Henderson County) Fall 1:29
190 – Dontre Quarles (Hopkinsville) over Unknown (Unattached) Forf
190 – Dontre Quarles (Hopkinsville) over Noah Vaughn (McCracken County) Fall 1:05
190 – Jarrod Gray (Apollo High School) over Dontre Quarles (Hopkinsville) Fall 5:45