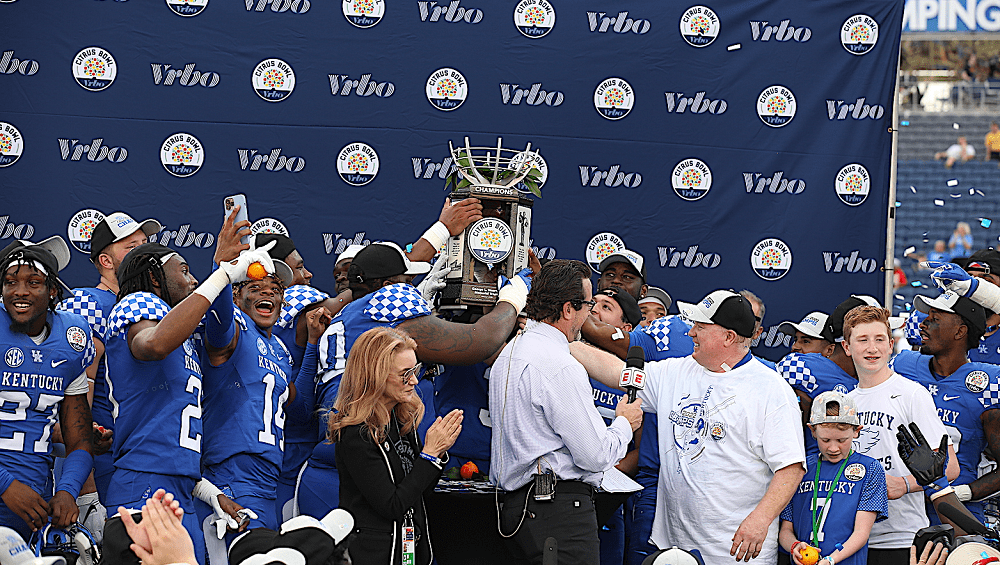 Winning 10 games annually is now the standard goal for UK football according to Wan'Dale Robinson and Will Levis. (Vicky Graff Photo)
Getting to a bowl and winning a bowl game used to be a goal for the University of Kentucky football team. But not anymore.
Kentucky's 20-17 Citrus Bowl win over Iowa Saturday was UK's 10th win — the second time in the last four years UK has won 10 games. It was also UK's fourth straight bowl win and makes Kentucky and Alabama the only teams in the nation to have four straight bowl wins.
"This is the standard, 10 wins. That is what it is. Every year from now on, you want to win 10 or more," said receiver Wan'Dale Robinson, the Citrus Bowl MVP, after the win.
"Coach (Mark) Stoops deserves all the credit in the world for what he has done with this program. This is obviously my first year with the team. There were a lot of guys before us going back a few years that really built the foundation for what the program has been able to do right now," quarterback Will Levis, a Penn State transfer who lost to UK in the 2018 Citrus Bowl, said.
"Like Wan'Dale said, this is the standard now. We have to hold everyone else to the standard on the team. Once these new guys and the recruiting class comes in, it is a great class, but we have to make sure they come in with a positive attitude and looking to learn and get better.
"If they want to be a part of even a bigger step to the next level, whether it is a New Year's Six Bowl game or College Football Playoff or SEC Championship, we need to take it up a notch."
Stoops says his team is used to playing — and winning — close games and has the toughness and resiliency to do that.
"We talked about playing the game with honor, and they do that. These players do. This is a player-led team," Stoops said.
Recruiting coordinator Vince Marrow has been with Stoops since the start at UK. He remembers "all the crap and stuff" they had to deal with after they arrived.
"They were always throwing stuff at us but now it is easier to recruit to win a national championship. Years ago we were recruiting to win six games and go to a bowl," Marrow said. "Now we are recruiting to go win a national championship. People are now looking and knowing this could be a reality."