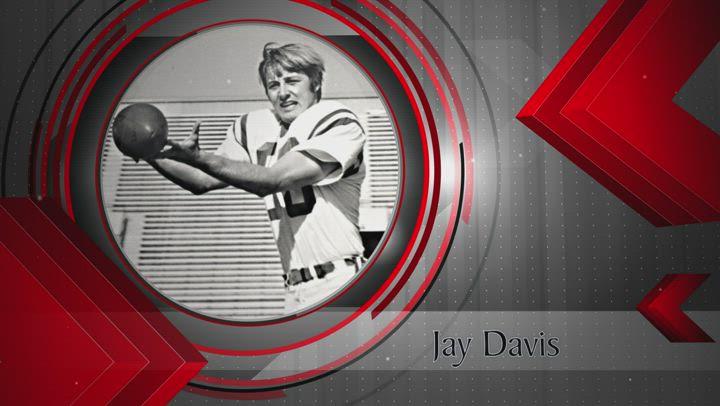 Jay Davis and his family began celebrating the holidays early when he was inducted into the WKU Athletic Hall of Fame just over two months ago.
Davis starred at wide receiver at Western Kentucky from 1968-71. He was officially inducted on Homecoming Weekend on the Hill Oct. 30 as part of the 2021 Hall of Fame Class.
The Princeton resident and former Caldwell County football assistant coach joined The Sideline Report with Todd Griffin on WPKY Radio Thursday.
The Henderson City product said the call to the Hall was a special one.
Davis left Western Kentucky with numerous receiving records. His 15 receptions at Akron in 1969 stood as the school record for 50 years and has been bettered by only Lucky Jackson in 2019 since. The 191 yards on catches in that contest stood for 26 years and is still seventh on that list.
Davis still holds WKU records for catches by a sophomore (46 in 1969), receiving yards by a freshman (612 in '68) and by a sophomore (809 in '69 and, receiving TDs by a freshman (six in 1968).
He completed his career with 131 catches (not bettered until 2004) for 2,236 yards (lasting until 2007) and 19 TD receptions (still sixth on that list).
When asked about the routes he ran, he joked, "the short ones."
Davis, a longtime official of both high school and college sports, was a member of two OVC championship teams ('70 and '71) and two runner-up finishes in league competition. He earned All-OVC honors as a junior in 1970.
The 2021 class also included Sherrod Coates (football), Donna Doellman Miller (women's basketball), Janet Jesang (women's cross country, track & field) and Chris Marcus (men's basketball).
Again, that group was officially inducted Saturday, Oct. 30, in Bowling Green.
The induction of the 2021 class brought the number of former WKU athletes and coaches to earn berths in the school's Athletic Hall of Fame to 161 since its founding in 1991.
See more in this WKU video: