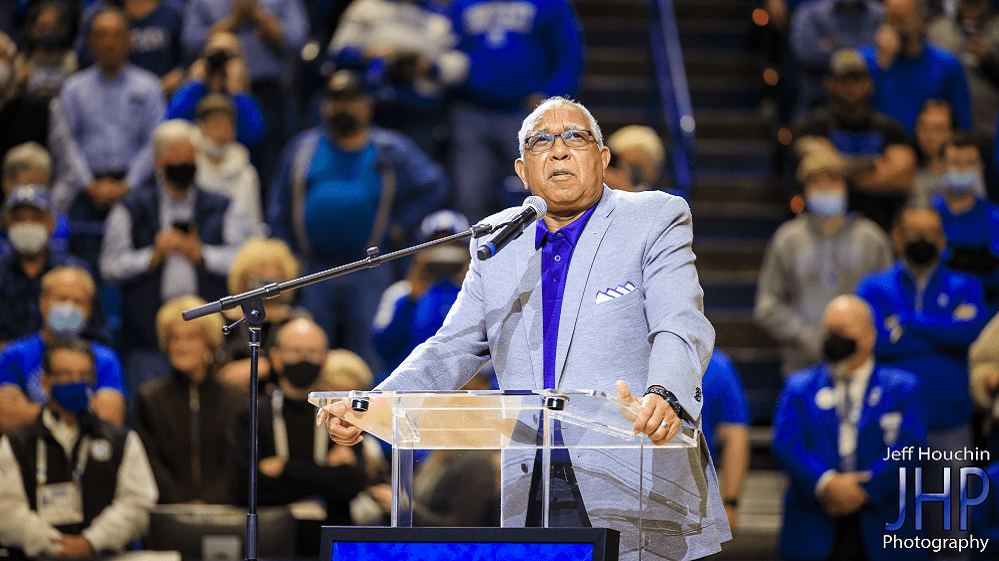 Tubby Smith has a big fan in Carmen Daniels, the mother of former UK player Erik Daniels. (Jeff Houchin Photo)
Tubby Smith not only won a national championship at Kentucky, but he also touched a lot of people in various ways that they have always remembered.
"When dropping Erik off at the Wildcat Lodge, I cried like a baby and I didn't want to leave him. Tubby gave me the biggest hug and assured me that he was going to be okay, and he was," said Carmen Daniels.
Her son, Erik Daniels, scored 1,045 points in his four years at UK and was a first-team all-Southeastern Conference selection as a senior in 2004. She wanted to be at Rupp Arena when UK retired a jersey in Smith's honor because of the impact Smith had on her son but a family obligation kept her away.
"He was a major factor on Erik. He reinforced that you have to be responsible for your actions. He was there when we got the call for him to play for Sacramento (in the NBA) and to go overseas (to play professionally)," Carmen Daniels said.
"Most importantly, he congratulated him on finishing what he started and getting his degree. It was awesome to have another black male in his life that had accomplished so much. He understood that family is so important and always made us feel a part of the Wildcat family."
Her family has kept in touch with Smith since her son's graduation and watched him coach Minnesota at Ohio State where she was attending school and then again when he brought Memphis to Cincinnati, her hometown.
"After hearing so much about the history of Rupp Arena I am glad to see that Tubby will have a jersey in the rafters. It gives me hope that this crazy world we live in might get it right one day," Daniels said. "This was his season and the timing is right for the recognition."